Site Overview
Home
Contact
Egyptology
Daniel
Orion
Archeology
Groliers
The Papacy
The Flood
Revolution
Lincoln
Left Behind
Part 1
Part2
Part3
Part4
Footnotes
Holy War
Jehod
Watchman
Yahoo Debate
What's New-
2001:
The True Church
The Dwelling-
Place of God
Babylon
Kingdoms
The Mother of-
God
Ghosts
The Beast of-
Revelation 13
Making-
Preparation
A Bible
Love
Woman's Rights
2002:
The way of God
Three Angels
Yom Kippur
2003:
Abomination
of Desolation
2004:
The Last
World Empire
Watchman on the Wall

I hardly ever turn on my car radio, but when I do it's almost as if I turn it on at just the right time.

Take the case in point;

Whenever I do listen to the radio I normally have the pop religious station on, that is, until it gets to worldly, which is most of the time, therefore, as I said, I rarely turn it on anymore; However, the other day, for some reason, I tuned to the public radio station, something I never do. On the program airing was an interview with a man who had written a book on abortion. Now listen, abortion is not necessarily a subject I have taken issue with in the past, that is, until after that day. Now I'm not saying that I haven't been appalled by this institution of lawful murder, as I perceive it, its just there are so many other greater issues to expound upon (or so I thought).

Anyway, the man being interviewed, had been a preacher once until something changed his occupation, and if you think about it, it takes a lot to change a calling from God. But the experience that caused him to change his occupation, is the thing that has brought the abortion issue into a new light for me, and I hope for you too.

You see the Lord comes to us with truth from many different corridors to help us see the importance of truth and its relevance towards salvation. A salvation it seems we have divorced ourselves from, and a salvation process "unknown" to many of us in this world today, even the religious one.

The truth I am speaking of is; "anything" that upholds scripture against the errors that prevail, and listen, if you don't think errors prevail today, even in the church, then stick with this article and see how it unfolds "with a hidden truth" that strikes against the state of the art of our religion today as well as in the past.

I write this not to find fault with religion, but to expose the deception that the church, in general, has willingly opened its doors up to, and that deception, lies at the very foundations of today's religious society, corrupting it at the skeletal level.

As I said, the Lord comes at us from many diverse angles so that we may see the truth, which, as plain as it may be, has been shielded form our eyes, sometimes by our "own choice" and sometimes "because of our own choice".

Listen to this warning;

II Thessalonians 2:11-13

And for this cause God shall send them strong delusion, that they should believe a lie:

That they all might be damned who believed not the truth, but had pleasure in unrighteousness. But we are bound to give thanks always to God for you, brethren beloved of the Lord, because God hath from the beginning chosen you to salvation through sanctification of the Spirit and belief of the truth:

Many read this and say; "well, that's written for and about the sinners" ! And friends, never once realizing we are all sinners (even by our own definitions). We forget too, that it is the Christian that is the most responsible !

"un"righteousness by common sense, and definition, is the "opposite" of righteousness is it not ?

Unrighteousness by biblical definition is "the transgression of Gods law" (re Romans 10:4-5). Transgression of Gods law is sin (re I John 3:4-7) We "must" let the bible define these terms for us to get it right.

The question is then, after having understood the terms of sin just shown above, "do we keep all the law of God ?" Of course not, our favorite excuse is "all have sinned and come short of the glory of God"; therefore as a result then, this message of Paul's (the above scripture), about being saved through a belief of the truth, is for us ! Those of whom that is, who have been deceived in one point or another "away" from the law of God[1].

Look at the text again and we will go on;

II Thessalonians 2:11-13

And for this cause God shall send them strong delusion, that they should believe a lie:

That they all might be damned who believed not the truth, but had pleasure in unrighteousness. But we are bound to give thanks alway to God for you, brethren beloved of the Lord, because God hath from the beginning chosen you to salvation through sanctification of the Spirit and belief of the truth:

Now that I have set my prerequisites:

The story:

This man, being interviewed on the radio, had an experience that changed his life, his profession and his focal point. It is my prayer as a result of his story we are led to see the bottom line of this issue, the underlying connections to the beast and the mark of the beast.

You say, why is it you always pump these same issues and never seem to get on with the story ?

Friends, it is because these issues are the present truth issues, end time issues, made clear on last months "what's new"…. Get this review from that article if you didn't read it (it might help to read it first);

Revelation 14:9-14

And the third angel followed them, saying with a loud voice, If "any man" worship the beast and his image, and receive his mark in his forehead, or in his hand, The same shall drink of the wine of the wrath of God, which is poured out without mixture into the cup of his indignation; and he shall be tormented with fire and brimstone in the presence of the holy angels, and in the presence of the Lamb: And the smoke of their torment ascendeth up for ever and ever: and they have no rest day nor night, who worship the beast and his image, and whosoever receiveth the mark of his name. Here is the patience of the saints: here are they that keep the commandments of God, and the faith of Jesus. And I heard a voice from heaven saying unto me, Write, Blessed are the dead which die in the Lord from henceforth: Yea, saith the Spirit, that they may rest from their labours; and their works do follow them. And I looked, and behold a white cloud, and upon the cloud one sat like unto the Son of man, having on his head a golden crown, and in his hand a sharp sickle.

You tell me then, is this not a last day - second coming message ? exposing "us" (mankind) here in the end of time ?

It gets more pointed though look at this;

Revelation 13:11-17

And I beheld another beast coming up out of the earth; and he had two horns like a lamb, and he spake as a dragon. And he exerciseth all the power of the first beast before him, and causeth the earth and them which dwell therein to worship the first beast, whose deadly wound was healed.

And he doeth great wonders, so that he maketh fire come down from heaven on the earth in the sight of men, And deceiveth them that dwell on the earth by the means of those miracles which he had power to do in the sight of the beast; saying to them that dwell on the earth, that they should make an image to the beast, which had the wound by a sword, and did live. And he had power to give life unto the image of the beast, that the image of the beast should both speak, and cause that as many as would not worship the image of the beast should be killed. And he causeth all, both small and great, rich and poor, free and bond, to receive a mark in their right hand, or in their foreheads: And that no man might buy or sell, save he that had the mark, or the name of the beast, or the number of his name.

Our lives are at stake on both sides of this issue friends !

Do you see that ?

So yes, this is pertinent to today, and should top our study list to know and understand all we can about these things, for our very lives, both mortal and immortal, are at stake in these issues. Those who discount or subdue these issues are suffering from the deception, will you be so shallow as they ? This is the bible speaking my friend not me !

The story I'm about to tell, this ex-preacher told, about his new calling, to take a stand against the issue of abortion, is just a starting point to launch bigger issues laying underneath. Issues relevant to the above prophecies, so lets start with his story finally;

One day he found himself at an abortion clinic, I forget why, but he went around back and looked into a garbage bin and what he saw changed, I repeat, changed his life forever. I must admit it struck me too at the very heart level and put a whole new image in my mind. An image of "the last days" that remind me time is short, and that its about time for Jesus to come, to put an end to this lack of "natural affection" that we are told would be one of the signs of the last days.

Romans 1:28-32

And even as they did not like to retain God in their knowledge, God gave them over to a reprobate mind, to do those things which are not convenient; Being filled with all unrighteousness, fornication, wickedness, covetousness, maliciousness; full of envy, murder, debate, deceit, malignity; whisperers, Backbiters, haters of God, despiteful, proud, boasters, inventors of evil things, disobedient to parents, Without understanding, covenant breakers[2], without natural affection, implacable, unmerciful: Who knowing the judgment of God, that they which commit such things are worthy of death, not only do the same, but have pleasure in them that do them.

You must realize, this incident the man is describing, took place in what I thought was the late sixties or early seventies long before the public eye was upon such clinics where abortions are performed.

As he opened up the bin, there before him. was a sight that brought horror to his eyes, and for emphasis I have amalgamated a photo similar to what he saw to impress your mind of the magnitude this reality.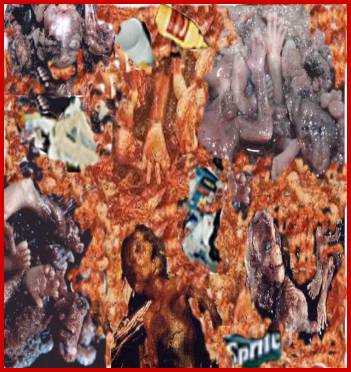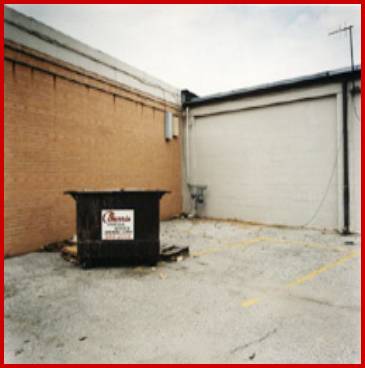 In the bin he saw a larger object wrapped in cloth picked it up and unwrapped it. Believe it or not it was a full termed baby much like this picture also taken from the internet
Listen to the facts: 1.9 million abortions are performed every year in the united states alone !
That's 216 a hour. 3.6 every minute of every day !
85 % of Americans believe it or not agree with abortion !
We hear these numbers and look at these pictures and are shocked beyond belief, not even realizing that it is going on right now ! Presently !
But friends, how many times have we seen pictures or documentaries about the "genocide of people" that have taken place over the years; the most recent the Croatians, not so long ago the Serbians, and not so very long ago the Jews, and look away with a passive attitude.
Please look at these pictures and think about what they all have in common with the others above;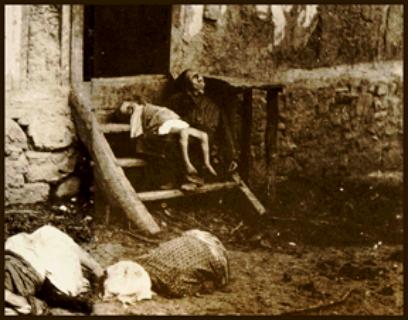 THIS IS THE PICTURE THAT STIRRED THE WORLD; WHEN A FARMER AND HIS FAMILY

WERE KILLED ON THEIR OWN DOORSTEP IN THE 1990'S…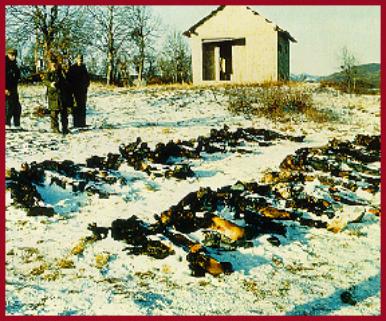 ONE OF THE MANY GRAVES UNCOVERED, AND STILL BEING UNCOVERED, EVEN

AS WE SPEAK….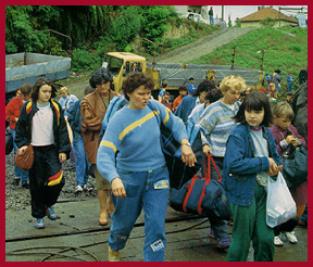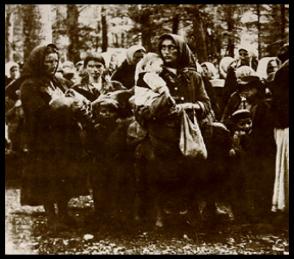 UNSUSPECTING PEOPLE BEING FORCED OUT OF THEIR HOMES AND HOMELAND…

TO END UP IN MASS GRAVES.

THE FOLLOWING ARE VERY GRAPHIC I KNOW, BUT THEY NECESSARY TO UNDERSTAND THE SCOPE OF THIS

MENTALITY, WHICH ACCORDING TO THE BIBLE, "WILL" RETURN IN THE END OF TIME;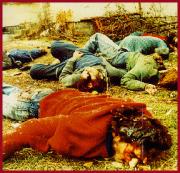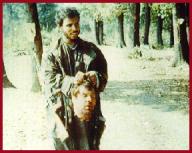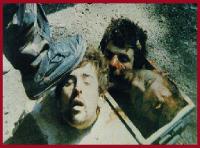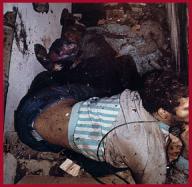 AS TERRIBLE AND GRAPHIC AS THESE SCENES OF HUMAN GENOCIDES OF THE "1990'S" ARE, THE TWO THAT FOLLOW DEPICT THE CONNECTION TO THE PRESENT DAY ABORTION MASSACRE, DONE UNDER A DIFFERENT MENTALITY, BUT ONE OF THE SAME….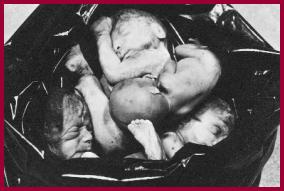 THESE WERE TAKEN IN A COUNTRY WHERE DEMOCRACY DOESN'T EXIST AND THE MOLOSIVECH'S PREVAIL !
BUT FRIENDS, THE FOLLOWING PICTURES ARE TAKEN RIGHT HERE IN "THE UNITED STATES" AT ABORTION CLINICS NATIONWIDE, "WHERE WE", I BELIEVE CONNECT OURSELVES TO ALL THE ABOVE AND "THOSE TO COME".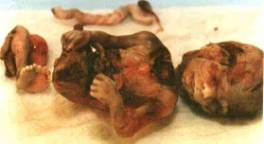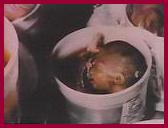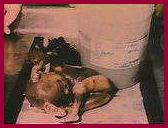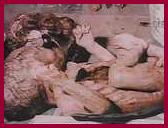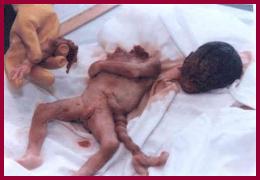 Lets stop here (please) :
As we explore the past, and contemplate the connection of these things to the beast power, who throughout the ages has persecuted Gods people, working of course through human agencies and political powers, doing the bidding of Satan, sometimes my friends, believe it or not, even in the name of God !
Abortion, modern genocide are just the tip of the "Historical" iceberg of the subject at hand, so lets look at the past horrors that lead to the meat of my subject.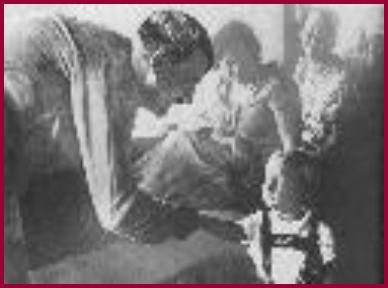 LOOK AT THIS "PROPAGANDA PICTURE" THAT BROUGHT MANY SUPPORTERS TO THIS MAN, FROM PEOPLE WHO DIDN'T SEE THE TRUTH UNTIL IT WAS TO LATE…LIKE US MAYBE.
RECOGNIZE THE FACE ?…
Adolf Hitler;
In 1885, after numerous affairs and two other marriages ended, the widowed Alois Hitler, 48, married the pregnant Klara Pölzl, 24, the granddaughter of uncle Hiedler. Technically, because of the name change, she was his own niece and so he had to get special permission from the Catholic Church.
The children from his previous marriage, Alois Hitler, Jr., and Angela, attended the wedding and lived with them afterwards. Klara Pölzl eventually gave birth to two boys and a girl, all of whom died. On April 20, 1889, her fourth child, Adolf, was born healthy and was baptized a Roman Catholic.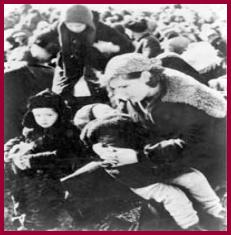 PICTURES OF PEOPLE RUNNING AND BEING LED BY "UNSUSPECTED" TO THEIR DOOM; I CAN CERTAINLY RELATE TO THIS LITTLE GUY WHEN I LOOK AT MY BABY PICTURES. THESE PEOPLE HAD NO IDEA WHERE THEY WERE GOING (SOUND FAMILIAR).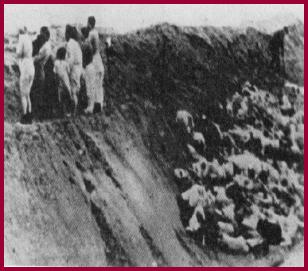 TYPICAL ENDING PLACES, OF THE HUNDREDS OF PLACES WHERE MILLIONS LOST THEIR LIVES..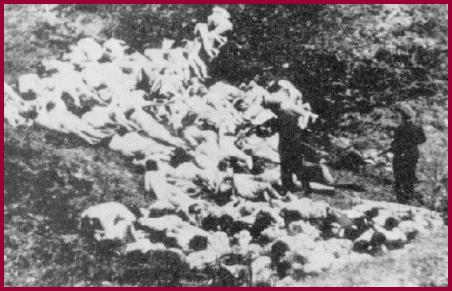 UNSUSPECTING PEOPLE WAITING ON A TRAIN TO HELL !
HELL AT THE END OF THE LINE !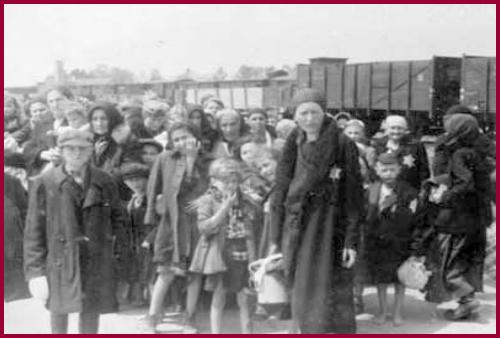 NOTICE THE SMILES ON THE FACES, NO ONE KNEW IT WAS GOING TO BE A ONE WAY TRIP TO THE GRAVE.
CHILDREN SMILING EVEN AFTER HAVING BEEN TORTURED THROUGH EXPERIMENTATION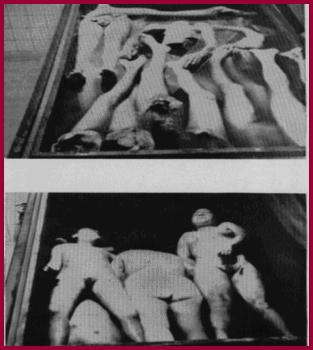 THESE PICTURES REMIND ME OF THE PICTURES OF THE ABORTED BABIES. ITS ALL THE SAME.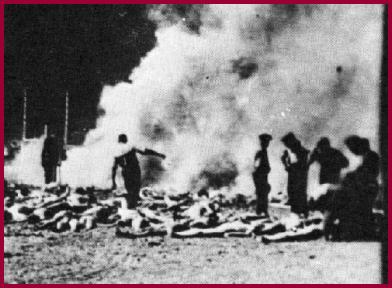 TALK ABOUT LACK OF NATURAL AFFECTION. THESE PEOPLE RUMAGING THROUGH THE DEADS BELONGINGS, ARE UNDER A GREAT DECEPTION DOING SATAN'S BIDDING BY THE INFLUENCE OF ONE MAN.
WE THINK THIS WONT REPEAT ITSELF, BUT WE ARE WRONG, IT DID IN THE 90'S, ITS GOING ON NOW IN SOMALA, AND SO IT WILL BE IN THE FUTURE ! HOWEVER THE NEXT TIME IT WILL BE AS IT WAS IN THE DARK AGES DONE IN THE NAME OF GOD.
This was a political/religio war my friends against "humanity" as is the war against abortion.
World War II Fatalities
| | | | | |
| --- | --- | --- | --- | --- |
| | Country | Military | Civilian | Total |
| | Soviet Union* | 8,668,000 | 16,900,000 | 25,568,000 |
| | China | 1,324,000 | 10,000,000 | 11,324,000 |
| | Germany | 3,250,000 | 3,810,000 | 7,060,000 |
| | Poland | 850,000 | 6,000,000 | 6,850,000 |
| | Japan | 1,506,000 | 300,000 | 1,806,000 |
| | Yugoslavia | 300,000 | 1,400,000 | 1,700,000 |
| | Rumania* | 520,000 | 465,000 | 985,000 |
| | France* | 340,000 | 470,000 | 810,000 |
| | Hungary* | | | 750,000 |
| | Austria | 380,000 | 145,000 | 525,000 |
| | Greece* | | | 520,000 |
| | Italy | 330,000 | 80,000 | 410,000 |
| | Czechoslovakia | | | 400,000 |
| | Great Britain | 326,000 | 62,000 | 388,000 |
| | USA | 295,000 | | 295,000 |
| | Holland | 14,000 | 236,000 | 250,000 |
| | Belgium | 10,000 | 75,000 | 85,000 |
| | Finland | 79,000 | | 79,000 |
| | Canada | 42,000 | | 42,000 |
| | India | 36,000 | *** | 36,000 |
| | Australia | 29,000 | | 29,000 |
| | Spain** | 12,000 | 10,000 | 22,000 |
| | Bulgaria | 19,000 | 2,000 | 21,000 |
| | New Zealand | 12,000 | | 12,000 |
| | South Africa | 9,000 | | 9,000 |
| | Norway | 5,000 | | 5,000 |
| | Denmark | 4,000 | | 4,000 |
Total circa 61 Million

*The figures for these countries were very different in the three sources

** The military deaths for Spain, a neutral country during the war, are attributed to volunteers in the Axis (4500) and Allied (7500) armies. According to source 2, above, 10,000 Spaniards died in concentration camps. These figures may be very inaccurate and may be reviewed later.

*** This table does not take into account the 3 million Indians who died due to famine in 1943.
Notes:

1. The above table shows only deaths not wounded.

2. Figures are rounded to nearest 1000

3. The table above has been compiled from three sources:-

(1). Alan Bullock - Hitler and Stalin: Parallel Lives pp987
(2). The Times Atlas of the Second World War pp204,205
(3). Richard Overy - Russia's War pp288
The highest estimate for each country was selected during compilation - in the case of ref.3 the figures for military deaths are given as recent official figures and the civilian deaths are those estimated from a 1996 study by B V Sokolov - although the author points out that an accurate figure is difficult to calculate.
This site ©1995-2001 Phil Stokes
home | glossary | leaders | Hitler bio | fatalities | dates | FAQ | links
If you add up the numbers; 40 million innocent people died under Hitler's political war, but this is not the beginning of these kind of atrocities !
For this picture we must go further back in time;
So now,
Lets talk about a strictly religious war against Protestants….
Notice the intro of a book I ordered from an antique book store;
BOOK WRITTEN BY A WELL KNOWN HISTORIAN IN 1844 (ZOOM IN) RIGHT BEFORE THE BIRTH OF DARWINS INFLUENCE AND RELIGIOUS BIGOTRY SET IN….
HERE IS THE PREFACE;
(PLEASE ZOOM IN TO READ WRITING, IF YOU CAN'T READ IT, IT COULD MEAN LIFE OR DEATH)
THE FOLLOWING PICTURES FROM THE BOOK WERE HAND DRAWN DEPICTING SOME OF THE PERSECUTIONS OF GODS SAINTS THROUGH THE YEARS (THEY DIDN'T HAVE CAMERAS REMEMBER BUT IF THEY HAD – OH MY !)
When you search for the history on how many people were put to death during the dark ages you find a total of 80,000,000 given as a "conservative" number. Men women and children did not escape the power of persecution during these dark ages. But friends, these killings were not done under political aspirations but tragically under the pretense of religion.
The bible tells us (Daniel 7:8, 24-25; revelation 13:3-5[3]) that the beast power was responsible for plucking up three whole kingdoms, and so she did under the same guise; the Vandals the Ostrogoths and the Heruli were those three. Find out "who" did this, as well as "who" ruled during the 1260 years of the dark ages, ironically enough "both politically and religiously", and you have found the "beast power[4]".
In the bible we are told she (the beast power-the same power) will do the same thing again in the end of time (re rev 13:11-17 we read above). Will "we" stand for truth or Jesus as did the martyrs, or will we have already given into her deceptions long before that time comes ? Our lives on this earth will be saved only "if" we decide to follow her and worship her, but if we do so choose, our chance of heaven lies in the balance.
Think about it; if God allowed men and woman during the dark ages, to lose their lives by being loyal to his cause, even in death, during her first reign, then how could we escape in the end having all this evidence before us ? That is if we know it and believe it !
It just doesn't fit the picture already given (re Rev. 12: 9-17, 14:6-12).
Do we fit the picture of Gods true church (a woman in prophecy) His Remnant Saints standing in contrast to those who have given into the beast and receive her mark of worship[5] ?
Who do what ? vs. 12….
The connections are there my friends, its just the nominal bible student is pointed in the wrong direction by the state of the art of religion, (like the one in my "Yahoo debate", who have been quieted by the powers that be, and the majority who do not even know who they follow.
All modern wars post 1798 have one common denominator and that is the reinstitution of the beasts power into the world by the beast power. Don't be so naive Mr. Bible student, to think that Satan (the great red dragon) is going to let any nation slip through the cracks[6]. The USA is the last stronghold for freedom of religion both philosophically and physically. However He (Satan) and She (the Beast power and her apostate protestants) are at work this very minute for their own gain secretly changing the constitutional fiber of this society in the name of religion and morality. The very same argument she gave for the inhalation of 80,000,000 heretics, so she called, and the millions upon millions who died in her religious wars solely to regain her hold she once had on the world.
Passing laws for moral reasons is "immoral" even if it sounds like the best thing to do for a decadent nation falling to its knees. What always follows is a dictatorship followed closely behind by a de-powering of the people and ultimate slavery.
This sounds so silly, and cut and dry, but if you open your eyes to the past you will easily see it's the cycle of life coming around again, just as it has historically been documented and shown here. Only this time my friends, and this is my whole premise, it's the last turn of the page according to the bible; for after the beast power has deceived the last of man into worshiping her (re rev. 14:9-12), and after she has defeated Gods Saints in all corners of the earth, by quieting the gospel of the Commandments of God and the Faith of Jesus (being also the Testimony of Jesus - Rev. 12:17, which is the Spirit of Prophecy - Rev. 19:10) all we see next happening in the scripture is the coming of the Son of Man in the clouds, as I previously have expounded upon (rev 14:14).
What's I'm showing you next is the proof "historically" of what I have laid out in outline here, and friends this is the reality of our past. Go to my search page and look it up, all the proof you need is out there. It's there, my friend, in the proof from the past that you can see "Biblically and Historically" that these things are true and not fairy tales and that all roads truly do lead to Rome.
I didn't create this site to be a bashing zone like some accuse, but a as warning sign for those, who still believe in the bible as the inspired word of God, as the Reformers, whose lives (ours), mortal and immortal, are at stake. Ezekiel writes down the word of God (re Ezekiel 3:17-21) and points out that the responsibility of Gods word falls on you and me. What are you doing ?
FOOTNOTES:
EXCERPTS: (VIEW/ZOOM 200% TO READ)
If you can't read this please email me and I will zerox copy this books

on the wall, only if We will be, as these men, watchman we love our brothers enough to stand for truth no matter what it costs us personally……
---
Egyptology l Orion l Archeology l The Papasy l The Flood l Left Behind l Holy War l Watchman l Yahoo Debate l Whats New
Why Mosescats.com?
Why Study Prophecy




__________________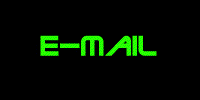 BOOK WRITTEN BY A WELL KNOWN HISTORIAN IN 1844 (ZOOM IN) RIGHT BEFORE THE BIRTH OF DARWINS INFLUENCE AND RELIGIOUS BIGOTRY SET IN….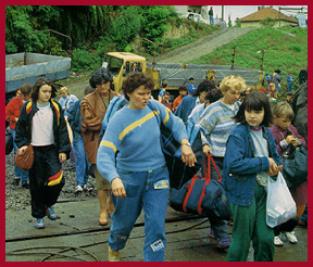 UNSUSPECTING PEOPLE BEING FORCED OUT OF THEIR HOMES AND HOMELAND…

TO END UP IN MASS GRAVES.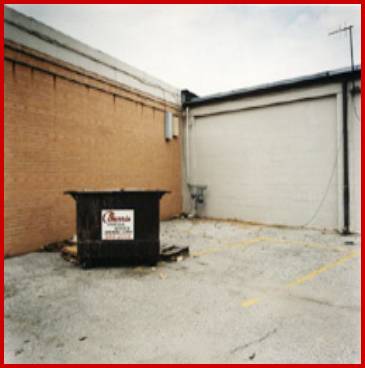 In the bin he saw a larger object wrapped in cloth picked it up and unwrapped it. Believe it or not it was a full termed baby much like this picture
also taken from the internet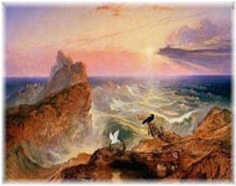 Amos 5:8
Seek him that maketh the seven stars and Orion, and turneth the shadow of death into the morning, and maketh the day dark with night: that calleth for the waters of the sea, and poureth them out upon the face of the earth: The LORD is his name: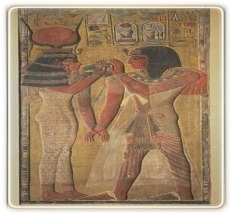 Connections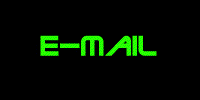 Site Content by:


Site Construction by:


THIS SITE IS DEDICATED TO THE BIBLICAL RECORD AND ITS SCIENTIFIC IMPLICATIONS