Egypt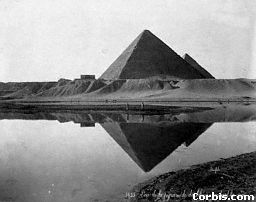 IN THE LATE 1700'S NAPOLEON MARCHED INTO THE LAND OF THE EGYPTIANS TAKING WITH HIM SCHOLARS, ARCHEOLOGISTS AND SCIENTISTS, FOR HE KNEW IT WAS THE LAND OF ANTIQUITY.
IT IS ALMOST UNBELIEVABLE TO KNOW, WITH ALL OF THE GENERATIONS OF ANCIENT PEOPLE IN THAT LAND, AND ALL OF THE RELIEF'S VISIBLE ON THE STILL STANDING MONUMENTS OF THE PAST, THAT NO ONE COULD READ THE LANGUAGE OF THEIR ANCESTORS. NOT ONE PERSON COULD TELL YOU WHAT THE ENCRYPTION'S AND RELIEF'S ON THE MONUMENTS MEANT.
TODAY WE THINK THAT WHEN WE RECORD OUR HISTORY IT WILL BE AVAILABLE FOREVER, FOR POSTERITY, BUT WE ARE JUST AS CAPABLE HERE IN THESE MODERN TIMES EVEN WITH ALL OUR TECHNOLOGY TO LOOSE TRACT OF THE PAST.
IN FACT FRIENDS, WE HAVE ALREADY LOST TRACT OF THE PAST BY VIRTUE OF REJECTION OF OUR GODLY HERITAGE, REPLACED BY SCIENTIFIC (FALSELY SO CALLED) THEORIES, A FICTITIOUS HISTORY THAT HAS NO PLACE FOR GOD AS PART OF OUR OWN ANTIQUITY.
NAPOLEON OF COURSE HAD NO PREDISPOSITION FOR SUCH AGNOSTIC PREJUDICE, AND EVEN THOUGH NOT A RELIGIOUS PERSON HE HAD RESPECT FOR WHAT THE EARTH REVEALED AS UNDISPUTED EVIDENCE OF A PEOPLE, NATIONS, SOCIETIES AND CULTURES THAT HAD ONCE EXISTED.
TODAY HOWEVER,WE HAVE A GROWING GENERATION BECAUSE OF THEIR UPBRINGING, SCHOOLING AND CURRICULUM, WHO DO NOT EVEN BELIEVE HITLER EXTERMINATED PEOPLE AS HE DID ! EVEN WITH ALL THE EVIDENCE WE HAVE.NO FURTHER BACK THAN IN THE LATE 1930'S, WHY ? TO BE TOTALLY HONEST; BECAUSE IT IS ASSOCIATED WITH RELIGION, AND THUS IT IS TABOO, AND UNSCIENTIFIC, EXTRAORDINARY, AND JUST AS THE LANGUAGE OF THE ANCIENT EGYPTIAN CULTURE WAS LOST, SO TO WILL OUR HISTORY BE LOST IF IT DOESN'T AGREE WITH THE STATE OF THE ART.
YOU SAY SUCH A THING IS IMPOSSIBLE, BUT LET ME REMIND YOU THAT EVEN THE OLD COMPUTER TAPES THAT HOLD MOST OF OUR UNDISPUTED HISTORY CANNOT BE READ NOW BECAUSE OF DECAY AND EQUIPMENT MODERNIZATION. I HERD THAT THE WHOLE HISTORICAL RECORDS OF A MAJOR CITY HAS BEEN LOST FROM EXISTENCE BY THESE VERY THINGS THAT WERE NOT FORESEEN.
THEN WE HAVE THE WARS SUCH AS IN A PLACE NEAR BOSNIA WHERE A WELL PLACED BOMB, IN ONE OF THE LARGER CITIES, WIPED OUT ALL OF THEIR PAST IN ONE SECOND WHEN THE LIBRARY OF RECORD WAS DESTROYED.
THEN YOU HAVE CHINA, WHO YEARS AGO INTENTIONALLY DESTROYED ALL OF HER HISTORY. WILL WE DO THIS SOME DAY ? WE ARE CERTAINLY ON THAT ROAD FOR WE HAVE NEARLY TAKEN GOD OUT OF OUR SOCIETY AND OUR CONSTITUTION HAS BEEN ARTICLED TO DEATH EVEN THOUGH IT THE PRIMARY STATEMENT OF THE PREAMBLE IT STILL STATES; "ONE NATION UNDER GOD". I SUPPOSE WHEN WE TAKE "IN GOD WE TRUST" OFF OUR CURRENCY THEN WE WILL HAVE SUCCEEDED TO APPEASE THE GROWING MASS WHO WISHES TO DESTROY OUR HERITAGE.
LOOKING AT IT FROM THIS ANGLE, ISN'T IT IS EASY FOR ONE TO SEE IN JUST THESE FEW EXAMPLES, HOW WE CAN LOSE TRACT OF OUR PAST BOTH BY ACCIDENT OR BY PURPOSE.
EGYPT THAT ONCE GREAT DYNASTY, LASTING LONGER THAN ANY CONTEMPORARY POWER, NEXT TO THE JEWISH NATION, AND POSSIBLY THE CHINESE NATION, STILL STANDS AS ONE OF THE MOST ANCIENT AND YET MYSTERIOUS CULTURES YET TODAY.
SOME BELIEVE THE EGYPTIAN CULTURE PREDATED THE FLOOD, THAT IS THOSE WHO EVEN BELIEVE IN THE FLOOD TODAY, OF WHOM ARE FEW AND FAR BETWEEN, EVEN THOUGH IT HAS BEEN WELL DOCUMENTED AND IS GEOLOGICALLY SOUND. BUT WITH THE ADVENT OF MODERN SCIENCE AND EVOLUTIONARY THEORIES WE HAVE A PARADOX THAT SAYS: THEORY TAKES PRECEDENCE OVER HISTORY, AND HISTORY IS NOTHING MORE THAN MYTH PROPAGATED BY IGNORANCE.
BUT FRIENDS, ANYONE WHO LOOKS AT THE GREAT DYNASTY OF EGYPT AND SAYS THAT THESE PEOPLE WERE IGNORANT ARE IGNORANT THEMSELVES. JUST AS IGNORANT AS THE WORLD WAS AT THE BIRTH OF THE REAL FANATIC'S LIKE THE DARWIN'S AND HIS THEORETICAL PREDECESSORS, WHEN IN THEIR FACE WAS ALL THE EVIDENCE FOR OUR PAST THAT HAD BEEN HANDED DOWN TO US. SOME CAME ALMOST MIRACULOUSLY, SOME CAME FROM IN UNDER STONES. YET DESPITE IT ALL THESE POPULAR THEORIES WERE SOON TO BECOME REALITIES IN THE MINDS OF THESE IGNORANT MEN.
THE EGYPTIANS AND THE SURROUNDING NATIONALS ESTABLISHED NATIONS, BUILDINGS, PROTOCOL AND KNOWLEDGE THAT MAKES "TECHNOLOGY TODAY" BABES IN THE COMPARISON.
WE THINK WE ARE SO SMART NOW WITH JUST A HUNDRED YEARS BEYOND THE TIME WHEN THE SAME HORSE AND BUGGY THAT PROPELLED MAN FOR SIX THOUSAND YEARS OF OUR RECORDED HISTORY WAS STILL THE CURRENT MODE OF TRAVEL. I SAY, ONLY IN THE LAST HUNDRED YEARS OR SO HAVE WE COME FROM THE DARK AGES INTO WHAT WE CALL THE SCIENTIFIC AGE. BUT CONTRARY TO POPULAR BELIEF TECHNOLOGY IS NO SAVIOR, AS IT HAS EVOLVED TODAY, BUT IS A SYSTEM DESTINED TO FAIL AS THOSE IN THE PAST.
THE BIG "REAL" BILLION DOLLAR FIX, JUST TO KEEP SYSTEMS FROM CAUSING THE END OF LIFE AS WE HAVE COME TO KNOW IT, AS WE PREPARED TO TURN OVER THE 21ST CENTURY (MAKING IT JUST ANOTHER DAY IN REALITY) SHOULD SHOW US WHAT OUR FUTURE HOLDS; WHEN WE RUN OUT OF FUEL, OR THE POWER NO LONGER COMES ON, AND IN ONE DAY THE STOCK MARKET FALLS FOR THE LAST TIME SWEEPING THE "WORLD ECONOMY" BACK INTO THE DARK AGES. OH WE ARE SO SMART THAT WE ARE SETTING OURSELVES UP FOR A FALL THE EXPERTS SAY; IS NOT A MATTER OF "HOW" BUT "WHEN".
WHEN ? WHEN A HUGE SOLAR FLARE KNOCKS OUT ALL OUR SATELLITES, OR A METEOR HITS, OR SOME TERRORIST SETS OFF NECULARS AND WIPES OUT OUR COMMUNICATIONS YES EVEN THE MOTORS IN ALL OUR ELECTRONIC EQUIPMENT. YES EVEN OUR GREAT COMPUTER SAVIORS ARE AT RISK, OBVIOUSLY WHEN SIMPLE STATIC ALONE CAN RENDER UNUSEBLE CERTAIN PARTS.
WE HAVE PUT ALL OUR APPLES IN ONE BASKET AND BILL GATES IS THE WINNER, BUT AT THE SAME TIME IS THE LOSER. WE HAVE CREATED A SOCIETY THAT HAS BEEN BROUGHT TO ITS KNEES BY THE NERDS AND ITS TO LATE TO TURN BACK NOW, WE'VE INVESTED TO MUCH, AND BESIDES WE LIKE THE CONTROL THAT COULD COME FROM THIS POTENTIAL IF THE FUTURE ALLOWS IT. BUT FRIENDS IT WON'T, MARK MY WORD, FOR THE TENDENCY FOR POWER IS IN FACT WHAT HAS DESTROYED OUR PAST; AND THE CYCLE GOES ROUND AND ROUND, A WHEEL WITHIN A WHEEL - FOREVER TURNING.
NOW , THAT I HAVE SET SOME PREREQUISITE'S FOR MY TOPIC: LET ME SHARE, WITH THOSE OF YOU WHO STILL HAVE A BELIEVE IN THE PAST, A FEW OF THE REVELATIONS THAT I FEEL EXPOSE TO US "THE WAY OF MAN FROM THE PAST" AND IN TURN , "HIS WAY INTO THE ETERNITY".
TODAY I AM AFRAID, WE ONLY FIND ETERNAL LIFE IN THE SCENARIOS OF THE FUTURISTIC MOVIES, OR THE FRANKENSTEINS OF THE COMPUTER AMALGAMATES, BUT THE REAL KEY TO ETERNAL LIFE IS FOUND IN "OUR PAST", AND IS A REALITY OF OUR FUTURE, OF COURSE THAT IS, IF ONE ACCEPTS IT AS PREREQUISITE. BUT, LET ME WARN YOU, IT IS ONLY A SURE FUTURE FOR THOSE WHO DO NOT HAVE THEIR EXTRATERRESTRIAL HEADS STUCK IN A 'THINKING COMPUTER' OF SOMEDAY, BUT THOSE WHO, THROUGH THE PAGES OF THE REAL PAST, AS HANDED DOWN TO US FROM THE INTELLIGENCE BEHIND US, COME WITH OPEN EYES TO THE FORUM, THAT THEY WILL FIND THE TRUTH.
NEWTON MAY HAVE SPOKEN FOR THEM ALL WHEN HE SAID, "IF I HAVE SEEN FURTHER THAN OTHER MEN, IT IS BECAUSE I HAVE STOOD ON THE SHOULDERS OF GIANTS."
YOU SEE THERE WAS NO PREJUDICE IN RELIGION, PER SAY, IN THE TIME OF NAPOLEON, BUT THERE WAS A DETEST FOR WHAT IT HAD EVOLVED INTO, AND IN THE POWER IT USURPED ON THE WORLD SCENE. THIS IS WHY ONE OF NAPOLEONS GENERALS WAS COMMISSIONED TO GO INTO ROME AND PULL THE RELIGIOUS BIGOT, PERSECUTING POWER OFF THE THRONE FOR ALL HER ATROCITIES (re FRENCH REVOLUTION - PUSH TAB) SHE HAD COMMITTED DURING HER DARK AGE REIGN.
HOWEVER, FOR THE TEMPERATE RELIGIONS OF THE PAST, THERE WAS GREAT ADMIRATION BY THIS UPCOMING WORLD CONQUEROR, AND THIS IS WHY NAPOLEON SET OUT, NOT TO DESTROY ANTIQUITY BUT TO PRESERVE IT. NOT AS THE MUSLIMS AND THEIR KIND, WHO ONLY PLUNGED AND PILLAGED, AND WERE DECADENT, BUT AS THOSE WHO HAVE EXISTED IN THE NAME OF "INTELLECTUAL SOCIETY" AND SELF PRESERVATION. THESE WERE THE PREREQUISITES THAT MOVED NAPOLEON - AT LEAST IN HIS HEART.
OF COURSE, RELIGION HAS BEEN AT THE CAUSE OF ALL THE MAJOR CONFLICTS AND WARS, AND THIS BECAUSE IT IS SO DIVERSIFIED GLOBALLY. HOWEVER, WITH ALL THE VARIOUS RELIGIONS, AND GODS, AND DEITIES HAVE COME FOUNDATIONS, AND IT IS THE UNCOVERING OF THESE TRUTHS THAT INTRIGUE MEN EVEN TODAY. SURE THE GOLD OF KING TUT ALLURES, BUT FOR THE MOST PART; "TRUE SCIENTIFIC" AND "ARCHEOLOGICAL CRAVINGS" ARE WHAT REALLY FULFILL MANS BASIC NEED, AND THAT IS TO KNOW WHO WE ARE, AND WHERE WE COME FROM.
NAPOLEON NOT ONLY WAS A WARRIOR, AND A CONQUEROR, BUT WAS A MAN WHO THOUGHT BEYOND THE SWORD. WHY ELSE WOULD HE CARRY AROUND THE RETINUE OF HISTORY COLLECTORS AND PRESERVERS AS HE DID ? MUCH DIFFERENT THAN THE CHRISTENED SAINT COLUMBUS OF WHOM WE ALL KNOW WAS AT BEST A MONGREL. WE ARE ALL COLLECTORS I GUESS AT SOME POINT IN OUR LIFE OF THINGS OF OUR PAST IF ONLY FOR REMINDERS. SURE, WE TOO HAVE THE HANDED DOWN TREASURES OF OUR OWN EMPIRE, GRANDMOTHER'S BROACH, MAMA'S DIAMOND RING ETC. JUST LIKE NAPOLEON. BUT THE DIFFERENCE IS HE DID IT JUST ON A LARGER SCALE FOR A HIGHER PURPOSE.
DO YOU REALIZE THAT HAD NAPOLEON WON THE BATTLE OF WATERLOO HE WOULD HAVE CREATED A WORLD STATUS NEXT TO ROME ?
YOU SEE; ROME WAS THE LAST EMPIRE TO RULE THE THEN KNOWN WORLD UNDER ITS CAESAR'S. RULING FROM ONE CENTRAL POWER SOURCE, AND WHERE DO YOU SUPPOSE ALL THE WORLDS TREASURES WERE STORED AT THAT TIME ?
IN ROME OF COURSE.
BEFORE ROME HELD WORLD STATUS; GREECE HELD THE WORLD IN HER POWER, AND BEFORE HER WAS MEDO-PERSIA+EGYPT IN AN ALLIANCE, AND BEFORE THAT WAS BABYLON THE GREAT. HOME OF ONE OF THE SEVEN WONDERS OF THE WORLD; BABYLON WAS THE FIRST KINGDOM ON EARTH TO ACHIEVE STATUS OF WORLD POWER RULING THE WORLD UNDER ONE KING.
NAPOLEON LOST THE NECESSARY BATTLE (WATERLOO) FOR FRANCE, AND THUS ROME STILL HOLDS IT POSITION AS THE LAST GREAT WORLD EMPIRE TO RULE THE WORLD FROM ONE CENTRAL SOURCE.
WHY I TELL YOU THIS IS TO SHOW YOU THAT AS FAR BACK AS THE BABYLONIAN TIMES WE HAVE RECORDED HISTORY, AS WELL AS ARCHEOLOGICALLY SOUND DOCUMENTATION. PROVING, WE CAN ESTABLISH CONTEMPORARY HISTORY AS FAR BACK AS THE 7TH CENTURY B.C.. OF COURSE, NOW THAT EGYPTIAN HISTORY HAS BEEN VERIFIED, AND IN THE PAST 10 YEARS OR SO BROUGHT INTO LINE BOTH RELIGIOUSLY AND CONTEMPORARILY, WE KNOW HER PAST GOES MUCH FURTHER BACK TAKING US FURTHER BACK INTO RECORDED HISTORY, AND ACCEPT IT OR NOT JEWISH HISTORY GOES EVEN FURTHER BACK AND WE HAVE THE NATION OF JEWS STILL WITH US AS A WITNESS.
THIS THEN IS THE BASIS OF WHICH I WISH TO BUILD UPON IN THIS WRITING. IN HOPES THAT WE CAN SEE THE SURE CONNECTIONS TO OUR REAL PAST, THAT CAN AND WILL SET A PRECEDENT FOR OUR FUTURE. A FUTURE THAT CAN LAST "FOREVER" IF WE SO CHOOSE.
WHEN NAPOLEON REACHED EGYPT AND HIS MEN BEGAN TO EXCAVATE THE TOMBS AND SUCH, A STONE WAS FOUND NEAR A PLACE CALLED ROSETTA, THUS IT WAS CALLED THE ROSETTA STONE AND IT NOW LIES IN THE BRITISH MUSEUM.
ON THIS STONE, UNCOVERED, WERE THREE DIFFERENT PARAGRAPHS AS IT WERE WRITTEN IN THREE LANGUAGES; ONE LANGUAGE WAS THE SAME AS SEEN ON ALL THE TOMBS AND MONUMENTS AROUND EGYPT CALLED HIEROGLYPHICS. THE SECOND WAS ANOTHER FORM OF HIEROGLYPHICS UNKNOWN AT THE TIME, BUT THE THIRD WAS WRITTEN IN GREEK LETTERS A KNOWN LANGUAGE, SO NAPOLEON KNEW HE HAD MADE A REAL FIND HISTORICALLY SIGNIFICANT. UNFORTUNATELY HE NEVER LIVED TO KNOW JUST HOW BIG A FIND IT WAS, AND HOW IMPORTANT TO OUR PAST THIS ONE SINGLE STONE WAS TO BECOME.
NAPOLEON BROUGHT BACK THE STONE TO FRANCE, AND LANGUAGE EXPERTS BEGAN TO TRANSLATE IT. IT WAS NEARLY 30 YEARS LATER THAT CHAMPOLLION BROKE THE CODE, IN 1824, AND SUDDENLY THE HISTORY OF THE EGYPTIAN DYNASTY BEGAN TO OPEN UP TO DISCOVERY.
THINK ABOUT THAT, IT WAS ONLY A HUNDRED AND SEVENTY SIX YEARS AGO, NEARLY ABRAHAM LINCOLN'S TIME, THAT WE WERE EVEN ABLE TO BEGAN TO UNDERSTAND THE REALITY OF THE EGYPTIAN CULTURE, A REAL CULTURE THAT WAS SEEN BUT NOT KNOWN. BELIEVE IT OR NOT WE ARE STILL UNCOVERING THAT HISTORY EVEN TODAY AND MORE AND MORE SHROUDS ARE BEING PULLED DOWN FROM THE PILE OF THEORY.
YOU SEE IF ONE WANTED TO STUDY HISTORY, SAY IN SIR ISAAC NEWTON'S TIME, THE BIBLE WAS STILL THE MOST ANCIENT SOURCE OF REFERENCE. WHY, THE ANSWER IS SIMPLE, SCIENCE HADN'T CHALLENGED IT TO THAT TIME. HOWEVER, WITH THE TURN OF THE CENTURY THE BIBLE WAS SOON TO COME UNDER ATTACK BY SO THE CALLED INTELLIGENT SOCIETY.
NOW LET'S LOOK AT THE TIME FRAME FOR THE MAJOR ARCHEOLOGICAL DISCOVERIES: IN LATE 17TH CENTURY AND INTO THE LATE 18TH CENTURY SO MANY DISCOVERIES HAD BEEN MADE IN THE HOLY LAND TO PROVE THE BIBLE AS A TRUE REPRESENTATION OF HISTORY THAT EVEN THE BEST OF THESE CHALLENGES WERE BEING PUT TO REST ONE AFTER ANOTHER.
LET ME TELL YOU OF ONE THAT LEADS INTO THE MEAT OF MY WRITING;
NEAR THE TURN OF THE 19TH CENTURY ONE OF THE BIBLICAL REFERENCES THAT HAD BEEN CHALLENGED BY THE ANTI-BIBLICAL SOCIETIES WAS SUDDENLY VINDICATED. THE AGNOSTICS HAD CLAIMED THAT THERE WAS NO HISTORICAL REFERENCE TO THE HITTITE PEOPLE AND ONLY THE BIBLE SPOKE OF THIS SOCIETY OF PEOPLE. FATE WOULD HAVE IT THAT NOT ONLY WAS A REFERENCE TO THE HITTITE PEOPLE UNEARTHED BUT ARCHEOLOGISTS DUG RIGHT DOWN INTO AN ASSYRIAN KINGS LIBRARY WHERE THIS RACE WAS IDENTIFIED.
SOME TWENTY THOUSAND CLAY TABLETS WERE DISCOVERED AS WELL AS A STONE TELLING OF HOW THIS KING HAD PLUNDERED CITIES SURROUNDING JERUSALEM, AND WAS MAKING AN ATTEMPT TO EVEN DESTROY GODS CITY. A BIBLICAL PROPHET WAS EVEN MENTIONED ON THE STONES, AND THE STORY WAS NEARLY WORD FOR WORD AS RECORDED IN THE HISTORY BOOK "THE BIBLE" SILENCING FOREVER THESE EPISODE'S OF UNBELIEF.
IN THIS DISCOVERY WAS FOUND WRITTEN TWO ACCOUNTS OF THE FLOOD OF GOD. ONE WAS THE BABYLONIAN ACCOUNT, AND THE OTHER CALLED THE GILGAMESH EPIC WHICH WAS OF SUMERIAN ORIGIN.
THIS THEN ADDS TO THE SETTING UP OF THE PREFACE OF THIS WRITING WHICH IS ABOUT BIBLICAL HISTORY; COMBINED WITH CONTEMPORARY HISTORY ; LEADING INTO PROPHETIC HISTORY; WHICH LEADS TO DISCOVERY OF TRUTH AND ULTIMATELY ETERNAL LIFE.
LET ME DISCUSS THE PROPHETIC HISTORY FOR A MOMENT AND SHOW HOW, EVEN THOUGH PROPHECY COMES FROM THE BIBLE, IT TELLS OF CONTEMPORARY EVENTS TO COME ON THE WORLD SCENE MANY YEARS BEFORE THEY ACTUALLY HAPPENED. ON THE OTHER SIDE OF THE COIN THEN THIS OPENS UP OUR EYES TO PAST HISTORY.
YOU SEE, THE AFOREMENTIONED WORLD EMPIRES, (BABAYLON, MEDIA PERSIA, GREECE AND ROME), THAT CAME ON THE SCENE ONE AFTER THE OTHER, WERE PREDICTED TO COME PROPHETICALLY. 100'S OF YEARS BEFORE THEY ACTUALLY CAME ABOUT ON THE PAGES OF HISTORY. THUS MAKING THE BIBLE; NOT ONLY AN ACCOUNT OF PAST HISTORY, BUT OF PROPHETIC HISTORY. TODAY PREDICTED EVENTS OF THE BIBLE ARE STILL HAPPENING AND ARE COMING TRUE JUST AS PRECISELY AS THEY HAVE IN THE PAST.
NOT ONLY WERE THE FOUR WORLD EMPIRES (BABYLON 606 BC-538 BC, MEDO-PERSIAN 538 BC-331 BC, GREECE 331 BC-168 BC AND ROME 168 BC-476 AD. PREDICTED, BUT ALSO WAS THE COMING OF JESUS ( THE MESSIAH) AND HIS CRUCIFIXION. PREDICTED BY THE BIBLE TO THE VERY DAY IN HISTORY JUST AS IT HAPPENED. EVEN THE TOWN IN WHICH THE MESSIAH WAS TO BE BORN, DOWN TO THE VERY WAY HE WOULD BE PUT TO DEATH, TO THE GAMBLING OVER HIS GARMENTS WAS
PREDICTED.
THE BIBLE EVEN PROPHETICALLY SPEAKS OF THE FORMING OF THE ANTI-CHRIST SYSTEM OF RELIGION, HER DEADLY WOUND, HER RECOVERY AND ULTIMATE RESURGENCE OF POWER THAT WE SEE IN TODAY'S HEADLINES. THE BIBLE GIVES DATES AND TIMES FOR THESE EVENTS, AND BELIEVE IT OR NOT, THEY HAVE COME TRUE RELIGIOUSLY, AS WELL AS HISTORICALLY, RIGHT ACCORDING TO TIME.
ALL OF THIS GIVES CREDIBILITY TO THE BIBLE AS A HISTORY BOOK AND ESTABLISHES PROPHECY AS A REAL SOURCE OF RELIANCE.
MODERN PROPHETS WHICH HAVE SPRUNG UP OVER THE LAST 50 YEARS ARE NO MATCH FOR BIBLICAL PROPHETS. BIBLE PROPHETS ARE ALWAYS RIGHT IN THEIR PREDICTIONS 100 % OF THE TIME. ONE MORE IMPORTANT ISSUE CONCERNING PROPHETS, SO CALLED, IS THAT; TRUE PROPHETS ONLY SPEAK OF BIBLICALLY CONNECTED THINGS, NOT ABOUT MOVIE STARS AND EVENTS THAT HAVE NOTHING TO DO WITH THE ETERNAL THINGS OF GOD.
NOW FINALLY WE COME TO THE ISSUE AT HAND; "EGYPT" AND HER CONNECTION TO THE BIBLE, THE FLOOD, AND THE ETERNITY;
SEVERAL CLUES HAVE BEEN GIVEN TO US THROUGH THE PRECEDING SOURCES, WHICH COMBINED, PAINT A PICTURE THAT WILL FOREVER BIND OUR PAST HISTORY INTO THE PAGES OF REALITY, AND WILL EXPLAIN MANY MYSTERIES THAT HAVE FALLEN PREY TO THE ASUNDEREOUS THEORIES THAT HAVE BEEN ESTABLISHED UNDER THE GUISE OF INTELLIGENT SCIENCE.
SCIENCE PUTS THE BIBLE IN THE MYTH CATEGORY (LOOK UP THE FLOOD IN A MODERN ENCYCLOPEDIA AND YOU WILL SEE WHAT I MEAN) HOWEVER, ONCE WE HAVE SEEN THE TRUTH IN THE ACCOUNTS OF REAL HISTORY FROM THE ABOVE MENTIONED SOURCES, IT IS EASY TO SEE THAT IT IS SCIENCE THAT IS A MYTH (THEORY) ITSELF, AND IS GROUNDED ON UNESTABLISHED PREREQUISITES AS WELL AS IDEOLOGICAL ASSUMPTIONS.
THE BIBLE ALTHOUGH PROPHETIC, AND SET UPON THE CREATION ACCOUNT, IS MORE ESTABLISHED IN HISTORY THAN THEORY EVER THOUGHT OF BEING; SO SAYS SIR ISAAC NEWTON.
ARE THE ACCOUNTS ACCURATE ?

DO THEY IN FACT ESTABLISH THE TRUE ACCOUNT OF OUR PAST ?

IF SO, THEN IT MAY VERY WELL PREDICT AN ACCURATE ACCOUNT OF "OUR FUTURE" AND THE FUTURE OF MANKIND.
LETS REVIEW WHAT HAVE WE ESTABLISHED SO FAR ?
THE EVENTS OF EGYPT COINCIDE WITH THE EVENTS OF THE BIBLE ESPECIALLY IN THE AREA OF MY CONCERN, AND THAT IS DURING THE PROPHETIC YEARS JUST PRIOR TO THE ESTABLISHING OF BABYLON THE FIRST CONTEMPORARY EMPIRE TO RULE THE WORLD; A KINGDOM AND EMPIRE OF WHICH IS HISTORICALLY AND ARCHEOLOGICLY SOUND, AND UNQUESTIONABLE, IN TODAY'S SOCIETY.
1. THE ASSYRIAN KING SENNACHERIB NOT ONLY WROTE OF THE HITTITES BUT OF THE JEWISH PROPHET HEZEKIAH, AND THIS ACCOUNT COINCIDED WITH THE BIBLICAL ACCOUNT. THIS DISCOVERY WAS MADE HOWEVER IN THE 19TH CENTURY DESTROYING THE AGNOSTIC'S ARGUMENTS.

2. IN THIS ARCHEOLOGICAL UNCOVERING WAS FOUND THE FLOOD TABLETS ESTABLISHING THE ACCOUNT NOT ONLY FROM A RELIGIOUS BUT ALSO A CONTEMPORARY SOURCE "THE REALITY OF THE FLOOD".
(INCIDENTALLY EVERY MAJOR LANGUAGE GROUP HAS A FLOOD ACCOUNT,
ISN'T THIS MORE THAN OBVIOUS IT WAS A HISTORICAL REALITY ?).
3. THE HISTORY NOW AVAILABLE FROM THE HIEROGLYPHS, STILL BEING INTERPRETED AND UNCOVERED IN THE HOLY LAND EVERYDAY, REVEAL THE CONNECTION TO THE BIBLICAL ACCOUNTS ESTABLISHING OUR TRUE HISTORY.

4. PROPHECY IS A REAL HISTORICAL TOOL, AND EVEN THOUGH A BIBLICAL PRACTICE, IT HAS PROVEN ITSELF AS ACCURATE, AND HAS PREDICTED REAL EVENTS OF HISTORY THAT HAVE COME TRUE EVEN TO TODAY, AS WELL AS WHAT WILL HAPPEN IN THE FUTURE.
WHAT DOES THIS ALL EQUATE TO ?
YOU ALL COME BACK NOW....YA HEAR !
Egyptology l Orion l Archeology l The Papasy l The Flood l Left Behind l Holy War l Watchman l Yahoo Debate l Whats New