The Mother of God

CAN YOU IMAGINE IF ONE DAY YOU WERE APPROACHED BY AN ANGEL, AND WERE TOLD THAT YOU WERE CHOSEN TO GIVE BIRTH TO THE SON OF GOD ?

YOU WERE PLANNING ON GETTING MARRIED SOON, AND NEVER HAVING HAD A MAN THIS COULD BE VERY DEVASTATING, ESPECIALLY WHEN IN YOUR COUNTRY IT WAS ABSOLUTELY UNACCEPTABLE TO BE WITH CHILD BEFORE GETTING MARRIED. IN FACT YOU COULD BE STONED TO DEATH UNDER GODS COMMAND IF THIS SHOULD HAPPEN.

OF COURSE THIS IS NOT OUR CUSTOM TODAY, WHERE IT'S COMMON PLACE TO HAVE BABY'S OUT OF WEDLOCK, LIKE THE 12 YEAR OLD ACQUAINTANCE OF MY DAUGHTERS. BUT LISTEN, IN SOME COUNTRIES EVEN TODAY THIS LAW OF GOD STILL STANDS, AND IF YOU ARE CAUGHT IN ADULTERY, OR FORNICATION, MAYBE YOU MIGHT NOT BE PUT TO DEATH, BUT YOU WOULD BE UNCLEAN FOREVER AND NO MAN WOULD COME UNTO YOU EVER.

JOSEPH NOW HAD A PROBLEM, IF MARY TURNED UP PREGNANT BEFORE THE ALLOTTED TIME, AND HAD A BABY BEFORE MARRIAGE, HE WOULD HAFT TO PUT HER OFF ACCORDING TO THE LAW, BUT IF NOT, AND ANYONE HERD ABOUT IT, THEY BOTH COULD BE STONED TO DEATH FOR THIS SIN AGAINST GOD.

NOW FRIENDS, WE CAN TRY ALL WE WANT TO JUSTIFY WHY GODS LAW IS UNJUST, AND TRY OUR BEST TO DO AWAY WITH IT, BUT IF IT WERE STILL IN PLACE IN OUR SOCIETY TODAY WE WOULDN'T BE ABORTING THE MILLIONS OF BABY'S EACH YEAR, WE COULD BE STONING MILLIONS OF MOTHERS INSTEAD. MAYBE IT WOULD STOP ? NA...

DO YOU SUPPOSE GOD SET THE TERMS OF DEATH AROUND THE LAW JUST TO KEEP JOSEPH AND MARY QUITE ABOUT THE MIRACULOUS BIRTH ? CERTAINLY NOT, WE ALL KNOW THE PAIN THAT SIN CAUSES BOTH GOD AND MAN IN THE END. BUT I GUARANTEE YOU ONE THING JOSEPH AND MARY WERE SILENT ABOUT THE HOW'S AND WHYS OF THE BABY, AND THE TRUTH WOULD ONLY BE DISCOVERED BY THOSE WHO WERE ENLIGHTENED, AND THEY OF COURSE WOULD UNDERSTAND.

IF THE MESSAGE OF MARY'S ILLIGIMATE CHILD GOT OUT TO THE PUBLIC, THE GOOD JEWS, LIKE THE ONES WHO PUT JESUS TO DEATH, YOU KNOW THEY WOULD HAVE THEM BOTH SHAMED, AND CUT OFF FROM JEWISH SOCIETY AND MOST LIKELY STONED TO DEATH BECAUSE OF THE IMPLICATIONS. CAN YOU IMAGINE IF THEY TRIED TO EXPLAIN; WELL I WAS WITH CHILD, BUT, IT IS THE SON OF GOD ? THAT WOULD THEN ABSOLUTELY CALL FOR THEIR DEATH ! ESPECIALLY WHEN WE CONSIDER THE MENTALITY THE PREACHERS HAD IN THOSE DAYS, CAN YOU SEE THAT ?

WE PLACE A LOT OF EMPHASIS ON THE VIRGIN BIRTH, AND PUT MARY IN A POSITION OF CHRIST IN HOLINESS TODAY[1], BUT BACK THEN IT WOULD HAVE BEEN DIFFERENT, AND IT WAS, READ YOUR HISTORY AND YOU WILL KNOW.

MARY AS A RESULT OF HER UNIQUE PERDICTAMENT NATURALLY LIVED HER WHOLE LIFE WITH THIS SECRETE CONCEALED. HER HEART WAS MIXED IN ITS DEVOTION TO HER SON AND THE SON OF GOD. IN FACT, THERE WERE TIMES WHEN SHE EVEN DOUBTED HE WAS ON A TRUE COURSE, MUCH LIKE HIS COUNTERPART JOHN THE BAPTIST JESUS' COUSIN[2], AND THERE WERE TIMES WHEN AS THE REST OF HIS CLOSE ASSOCIATES DOUBTED HIS MISSION TOO, IT INTERFERED WITH THEIR FAITH THEY HAD THEIR OWN MIND SET ON HOW IT WAS GOING TO BE AND SUPPORTED IT BY THEIR RELIGIONS TEACHINGS.

MUCH LIKE SOME TODAY WHEN TRUTH COMES TO THEM IT INTERFERES TO MUCH WITH THE WAY THEY BELIEVE AND THEY GO ON AS IF IT WERE NOT THE TRUTH.

JOSEPH APPARENTLY DIED EARLY IN JESUS' LIFE FOR MARY WAS A WIDOW AT THE TIME OF THE MARRIAGE SUPPER, AND THAT TOOK PLACE AT THE BEGINNING OF JESUS' MINISTRY. NOW CHECK IT OUT; FROM THAT EVENT, THAT POINT IN TIME, EARLY IN CHRISTS MINISTERY, THROUGHOUT THE WHOLE SUM OF THE ACCOUNTS OF THE FOUR GOSPLES, CLEAR UP TO THE CRUCIFIXION, WE HEAR NO MORE ABOUT MARY. DOESN'T THAT SEEM ODD TO YOU IF SHE WAS TO BECOME A DEITY ?

LETS LOOK AT THE RECORD NOW;

WHEN JESUS WAS ASKED ABOUT HIS MOTHER, IF HE CARED ABOUT HER AND HIS BROTHERS FEELINGS AND THEIR COUNSEL, HE SAID; "WHO IS MY MOTHER (re LUKE 8:20-21, MATH 12:48-49) AND WHO ARE MY BROTHERS ?". THEN HE POINTED OUT INTO THE CROWD AND SAID THERE THEY ARE. HE OF COURSE WAS NOT LEAVING HIS MOTHER AND BROTHERS OUT WHEN IT CAME TO THE KINGDOM AND THE REALITY OF THEIR FAMILY TIES, BUT IN THE SAME RESPECT HE WAS PUTTING NO SPECIAL EMPHASIS ON THEM.

SEE IT ?

TAKE JAMES, WHO WROTE ONE OF THE LITTLE BOOKS OF THE BIBLE BACK THERE NEAR REVELATION, WHO WAS THE BROTHER OF JESUS. CLEARLY IF YOU TAKE THE TIME TO READ IT, HE WASN'T HURT BY JESUS' WORDS ABOUT WHO HIS REAL BROTHERS AND MOTHER WERE, THE ILLIGITIMATE BIRTH AND ALL. HE UNDERSTOOD IT, HE WAS IN TUNE, AND WE SEE IT MOST CLEARLY AND MOST CONCISELY IN THE BEAUTIFUL PICTURE HE PAINTED OF JESUS AND HIS SALVATION PROCESS. WHAT THE WHOLE PLAN OF GOD WAS FOR MANKIND AND HOW IT RELATES TO EVERYDAY LIFE; BOTH IN HEAVEN. BACK THEN BEFORE CHRIST, TO THE LAST MAN AND WOMEN ON THE EARTH.

AFTER THAT MOUTHFULL, THE WHOLE POINT IS, IF MARY WAS TO BECOME ALL THAT THE MOTHER CHURCH CLAIMS HER TO BE, A DEITY, AN OBJECT OF WORSHIP AND THE INTERCEDER OF OUR PRAYERS, THEN WHY WASN'T THIS MADE CLEAR IN THE BIBLE FOR US TO UPHOLD THIS AS THE TRUTH ?

THE BIBLE IS SILENT....

LET ME ASK YOU A QUESTION; IF SOMETHING WE HEAR CANNOT BE FOUND TO BE SUPPORTED BY THE BIBLE, SHOULD WE PLACE ANY SPECIAL INTEREST ON IT ? SHOULD WE PLACE OUR SALVATION AND OUR FAMILIES SALVATION ON SUCH A THING ?

MANY PREACHERS DO TODAY, IN FACT MOST OF THEM DO FORM JIMMY SWAGART TO BILLY GRAHAM.

HOW CAN WE TEST IT TO BE TRUE IF NOT FROM THE WORD OF GOD ?

SOME MANS BOOK? PERRY STONES COMMENTARY ON THE BOOK OF REVELATION ? AN EDICT FROM THE MOTHER CHURCH ? OR THE sPIRIT THAT COMES TO US in the NIGHT ?

WHY NO FRIENDS, IF IT'S NOT FOUND IN THE PLAIN WORD OF GOD, NO MATTER HOW CONVINCING IT MAY SEEM, NO MATTER WHAT SPIRIT WE MAY THINK MAY HAVE TOLD US[3], IT COULD BE DEVASTATING TO OUR SOUL, IT COULD LEAD US DOWN A PATH THAT LEADS TO DECEPTION AND ULTIMATE DESTRUCTION.

GIVE ME THE BIBLE AND OLD TIME SONG IS NOT SUNG ANYMORE BECAUSE WE HAVE SEPERATED OURSELVES FROM THE PLAIN AND SIMPLE WORD OF GOD.

TAKE GODS LAW FOR INSTANCE, THE SAME LAW THAT SAID THE ADULTERER (MARY AND JOSEPH IN THIS CASE) MUST receive DEATH FROM THIS TRANSGRESSION (SIN) UNLESS SHE OR HE REPENTS OF THEIR FORNICATION AND RECEIVES FORGIVENESS FROM GOD. THROUGH PRAYER IN OUR CASE, AND SACRIFICE AND OFFERINGS IN THEIR CASE.

THIS LAW, ALTHOUGH WE HAVE FORGOTTEN IT TODAY IN THIS AGE OF MERCY, IS STILL VALID ! JESUS SAID IT WAS TO BE ENFORCE until THE HEAVEN AND EARTH PASS AWAY, AND THAT HASN'T HAPPENED YET THAT I CAN TELL ! HE GOES ON TO SAY THERE IN HIS FIRST SERMON FOR MANKIND IN THE BEATITUDES (re MATH 5); NOT ONE DOTTING OF THE "i", NOR ONE CROSSING OF THE "t" SHALL IN "NO WISE" BE REMOVED FROM THE LAWS "VALIDITY", FROM ITS "LETTER" AS SOME SAY, TILL WHEN ? TILL HEAVON AND EARTH SHALL PASS ! LISTEN FRIENDS, NOT EVEN THE SPIRIT OF GOD CAN CHANGE THAT EDICT AS IT WERE, THAT TRUTH FROM THE MOUTH OF GOD, MUCH LESS PAUL OR ANY MAN OR ENTITY OF THIS EARTH. NOT EVEN GOD BELIEVE IT OR NOT, FOR IF HE DID HE WOULD BE UNJUST CALLING FOR THE STONING TO DEATH OF A SABBATH BREAKER BACK THEN, YET LETTING US SLIDE TODAY MAKING ANY DAY HOLY WE THINK TO. WHY FOLKS, IF HE WOULD APPROVE OF THAT CHANGE IN HIS LAW TODAY ALL THOSE PEOPLE BACK THERE WHO WERE JUDGED UNDER THAT LAW WOULD RISE UP OUT OF THEIR GRAVES AND SAY YOU ARE UNFAIR UNJUST, AND SATAN WOULD STAND UP AND SAY SEE I'VE TOLD YOU ALL ALONG GODS LAWS ARE UNFAIR.

NO FRIENDS, WE MUST GET THIS CLEAR AND IN PERSPECTIVE, NOT IN TODAY'S COMPROMISING ATTITUDE, BUT IN LIGHT OF THE BIBLE, GODS WORD; GET THIS THOUGHT; THE LAW OF GOD CAME FROM "THE MIND OF GOD THE FATHER" AND WAS WRITTEN ORIGINALLY FOR US (MANKIND) IN INDELLIABLE STONE "BY HIM", WITH HIS OWN FINGER. HOW DARE ANYONE OF THIS MEASLY WORLD THINK THEY HAVE A MIND OR LAW GREATER THAN THE CREATOR GOD'S LAW, WHO SET THE HEAVONS AND EARTH IN PLACE, AND THE HEAVONLY BODIES IN MOTION. WHO CREATED THE BILLIONS OF GALAXIES AND STARS IN THE ETERNITY OF SPACE AND TIME,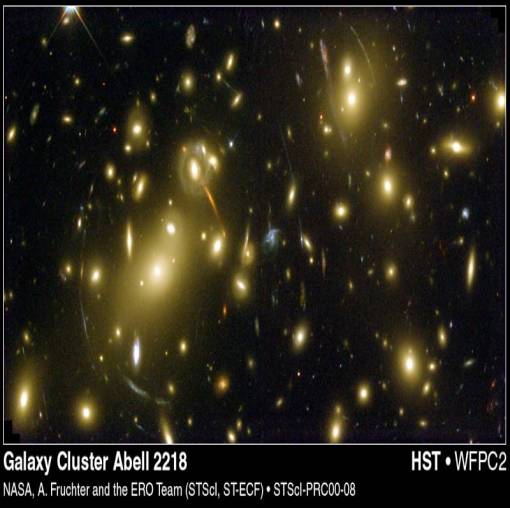 EACH BRIGHT LIGHT IS A SUN OF A GALAXY. EACH GALAXY CONTAIN BILLIONS OF STARS !
IT WAS GOD WHO CREATED THE SPARK OF OUR LIFE, AND OUR QUEST FOR ETERNAL LIFE ! WE FORGET THAT DON'T WE IN THIS EVOLUTION DRIVEN SOCIETY[4] ?
ALL OF THE PROPHETS, INCLUDING JESUS AND THE HOLY SPIRIT, CAME INTO THIS WORLD TO UPHOLD THAT LAW AND TO TRY TO GET IT INTO "OUR MINDS AND HEARTS"[5]; FROM GODS MIND TO OURS, AND AFTER THAT IT WILL BE IN OUR ACTIONS; WE WON'T STEAL, AND WE WONT KILL, AND WE WILL KEEP THE "SEVENTH DAY" HOLY AS IT WAS MADE IN EDEN, AS IT WILL ALSO BE KEPT IN THE NEW EARTH IN THE FUTURE (re ISAIAH 66:22-23).
SO THE LONGEVITY OF THE LAW IS ETERNAL JUST AS JESUS STATED IN HIS FIRST SERMON WHILE HERE ON EARTH (re MATTHEW 5:17-18), AND AS HE TOLD OLDEN ISRAEL WHEN HE INITIALLY GAVE IT TO MANKIND (re DEUT. 4::40, 5:29,. IF YOU THINK ABOUT IT THE LAW IS THE VERY FOUNDATION OF HEAVEN, AND THAT IS WHY THERE WILL BE NO LIARS IN HEAVEN OR THE LIKE WHEN IT COMES TO SIN (re REV. 22:14-15), AND THERE WILL BE NO WORSHIP IN THE FOREHEADS OF THE SAINTS OF HEAVEN LIKE "THE WORSHIP OF THE BEAST" (re REV. 14:9) ON THE FIRST DAY OF THE WEEK WITH ITS TELL TALE "SUN" WRITTEN RIGHT THERE IN ITS NAME[6].
NO MY FRIENDS, IT WILL BE THOSE WHO HAVE BEEN SEALED BY GOD (re REV. 7:1-3) WHO KEEP HIS COMMANDMENTS AND LOVE THEM AND HAVE HIS LAW IN THEIR FOREHEADS AS WAS HIS ORIGINAL INTENTION (re DEUT. 6:5-8[7]) AND EVEN HIS INTENTION FOR THE NEW COVENANT CHRISTIANS (re HEBREWS 10:12-17) IT WILL BE THOSE WHO HAVE THE SEAL OF GOD WHO WILL HAVE ACCESS TO ETERNAL LIFE (re REV. 22:14) AND UNLESS WE UNDERSTAND THIS AND BEGIN TO MAKE IT A PART OF OUR LIFE WE WONT FIT INTO HEAVEN, IN FACT WE WILL BE LEFT OUTSIDE AS THE NEXT VERSE IMPLIES. WHY ? SIN CANNOT, AND WILL NOT RISE AGAIN AFTER GOD DESTROYS IT AND ALL WHO HOLD ON TO IT, OR IT WILL HAVE ALL BEEN IN VAIN. JESUS GAVE HIS LIFE THAT YOU AND I MIGHT BE ABLE TO BECOME RIGHTEOUS BY THE SPIRIT (ROMANS 8:2-4) AND FOLLOW AFTER JESUS WHO PAID THE SIN DEBT THAT WE MIGHT NOT SIN ANYMORE[8] AND LOOSE OUT ON HEAVEN. THAT'S WHAT THE RIGHTEOUSNESS OF THE LAW IS TO US A WAY OF LIFE NOT IN SIN BUT IN RIGHT DOING.
YOU SEE IN ANCIENT DAYS, IN THE GRAPHIC EXAMPLE OF THE PLAN OF SALVATION DISPLAYED IN THE SACRIFICIAL SYSTEM GOD SET UP, THE LAW PLAYED A VERY IMPORTANT PART. IT POINTED OUT THE SIN TO THE SINNER, BUT BECAUSE IT COULD NOT TAKE THE SIN AWAY, IT POINTED HIM TO THE BLOOD, AND THE LAMB THAT WAS TO BE SLAIN BY THE SINNERS OWN HAND. HIS OR HER SIN THEN WAS transferred THROUGH THE BLOOD OF THE LAMB.
WAS THE PROCESS OF SALVATION OVER AFTER THIS ? NO, THIS WAS SIMPLY THE JUSTIFICATION PART (AS WE HAVE COME TO CALL IT) THE SANCTIFICATION PROCESS WAS JUST BEGINNING IN THE REPENTANT SINNERS LIFE. WHEREBY HIS CONSCIENCE, HIS EVERYDAY CHARACTER, AND WALK IN LIFE WOULD BE CONVERTED INTO RIGHTEOUSNESS.
YOU SEE JESUS DIDN'T COME TO DIE FOR SIN, BUT BECAUSE OF SIN, AND THAT IS WHY HE DOESN'T SAVE US IN OUR SINS "BUT FROM OUR SINS", THEN IN REPENTANCE AND CONFESSION WE GO AWAY FROM THE BLOOD CLEANSED, "BUT CHALLENGED" TO LIVE NOW NOT ONLY THE FREE LIFE - FROM THAT SIN AND ITS GUILT, BUT TO NOW WALK IN THAT NEWNESS OF LIFE, AFTER THE MANOR OF THE LAW, OR IN OTHERWORDS "IN THE MIND OF GOD" AND WITH THE MIND OF GOD.
THIS PROCESS TAKES A LIFETIME AND THAT IS WHY WE CAN'T HESITATE TO START WALKING ACCORDING TO THE LAW LIKE JESUS AND HIS FATHER.
THE FINAL STEP IN THE SALVATION PROCESS, AS DISPLAYED IN THE GRAPHIC EXAMPLE UNDER THE OLD COVENANT, WAS GLORIFICATION, AND THAT OF COURSE WAS SEEN ON THE DAY OF YOM KIPPUR, THE TYPICAL (FORESHADOWING OF) OF THE ANTI-TYPICAL DAY OF JUDGMENT(AT THE END OF THE WORLD), WHEN ALL SIN WOULD BE PUT AWAY AND THE SAINTS WOULD FOREVER ENJOY ETERNITY WITH THE ONE WHO CREATED THEM IN HIS IMAGE[9]. AND GUESS WHAT ? THEY WILL BE "IN HIS IMAGE" AND WILL HAVE CHOSEN TO BE THAT WAY AND NO ONE CAN TAKE THAT FROM THEM. THIS IS WHAT PAUL MEANS WHEN HE SAYS NO ONE CAN SEPARATE HIM FROM JESUS...
ARE WE IN THE IMAGE OF GOD ? PAUL ALSO SAYS; WE ARE ALL SPOTTED BECAUSE OF ADAM AND CAN'T CHANGE THIS FACT, WE ARE ALL SINNERS.
DO WE MAKE VOID THE LAW OF GOD THEN BECAUSE WE ARE ALL SINNERS ?
I'LL LET PAUL GIVE A ANSWER TO THIS SUBSTANTIATING ALL I'VE SAID SO FAR;
ROMANS 3:23-31, 19-20, 6:1-4,14-18,23, 7:1-25
IF YOU NOTICE; PAUL CHOOSE "THE MIND OF GOD".....WILL WE....
YOU SAY MAN HOW DID YOU GO FROM TALKING ABOUT MARY TO THIS ?
ALL ROADS LED TO ROME MY FRIEND, BUT NOT ALL LED OUT.
ISAIAH SAID IT CLEARLY AS TO WHY IT COMES DOWN TO THESE TO THOUGHTS;
ISAIAH 8:20
THIS IS THE TEST OF PROPHECY AND TRUTH, AND IF IT DOESN'T FIT YOU MUST........
CONCLUSION:
THE REASON FOR THIS LITTLE STUDY IS; THERE HAS BEEN PLACED AN EMPHASIS ON MARY AS BEING THE OBJECT OF PRAYER , AND NOW BEING TAUGHT AS ONE WHO CAN FORGIVE SIN.
NOW WHAT IN THE BIBLE SUBSTANTIATES THIS ? INTIMATIONS ONLY MY FRIENDS; ONE SUCH STATEMENT FOUND IN THE BIBLE, USED WHILE PRAYING WITH THE ROSARY IS; "HOLY MARY MOTHER OF GOD PRAY FOR US SINNERS NOW IN THE HOUR OF OUR NEED.......BLESSED ART THOU AMONG WOMEN AND BLESSED IS THE FRUIT OF THY WOMB.
NOW AS I SAID; THE INTIMATION BY THIS PRAYER, USED OVER AND OVER AND OVER AGAIN BY CHRISTIANS ALL OVER THE WORLD, MAKES IT SEEM LIKE MARY IS HOLY, THUS SPECIAL AMONG MANKIND.
THE BIBLE DOES SAY "BLESSED ART THOU", BUT DOES THIS AUTOMATICALLY MAKE MARY "HOLY" AS WEBSTERS DEFINITION FOR "BLESSED" TELLS US ?
BLESSED IS AN ADJECTIVE WHICH MEANS IT IS USED TO DESCRIBE A "NOUN". SO, IF WE USE IT POINT BLANK TO DESCRIBE MARY, THEN "BLESSED" IN THIS CASE WOULD MEAN SHE "WAS HOLY", FOR THE TEXT IS DESCRIBING HER AS SUCH, BUT (BIG BUT) WE KNOW AS I WILL SHOW SCRIPTURALLY, PAUL SPELLS IT OUT VERY CLEARLY, IN A VERY MUCH USED PASSAGE; "ALL HAVE SINNED AND CAME SHORT OF THE GLORY OF GOD" SAVE JESUS.
NOW THINK ABOUT IT; IF WE ARE "ALL SINNERS" SUBJECT TO DEATH, BECAUSE WE HAVE BEEN BORN OF THIS WORLD, AND WE NEED JESUS TO SAVE US, CAUSE WE CANNOT SAVE OURSELVES, AND THE LAW CANNOT SAVE US; THEN WHY OR HOW COULD MARY BE AN EXCEPTION JUST BECAUSE SHE BORE JESUS ?
THE ANSWER IS SIMPLE; AMONG THE OTHER DEFINITIONS WEBSTER GIVES FOR THE WORD BLESSED; IT CAN ALSO MEAN "HAPPY", SET APART FOR A HOLY PURPOSE[10] AND IN THIS DEFINITION MARY CAN FIT, BUT SHE CANNOT FIT IN THE SAME category AS JESUS WHO ONLY CAN BE CONSIDERED "HOLY", THAT IS, IF WE ARE GOING TO TAKE PAUL'S WRITINGS AS TRUTH THAT; "ALL HAVE SINNED AND COME SHORT".
TRULY, BLESSED, IN ONE SENSE OF THE WORD WAS MARY, FOR SHE WAS SET APART FOR HOLY USE; WHAT WOMAN WOULDN'T WANT TO HAVE BEEN THE MOTHER OF THE MESSIAH ?
DON'T BE TO QUICK TO ANSWER THIS, FOR REMEMBER THE story; SHE REALLY LIVED A LIFE OF MISERY IN A WORLDLY SENSE;
LET ME REMIND YOU ABOUT MARY'S LIFE;
SHE BECAME PREGNANT, BUT NOT BY HER HUSBAND, THEREFORE SHE COULDN'T TELL ANYONE. SHE LOST HER EARTHLY SUPPORT, WHICH SHE "WASN'T" GETTING FROM JESUS[11], BEING HER HUSBAND JOSEPH EARLY ON. SHE SAW HER SON GOING IN A DIRECTION THAT WAS AGAINST THE FAITH SHE HAD ALWAYS KNOWN, until IT LED HIM TO THE OUT AND OUT PERCEPTION OF BEING WORSE THAN A CRIMINAL AGAINST HIS OWN PEOPLE AND RELIGION, AND SHE SAW HIM BE PUT TO DEATH BY THE HIGH PRIEST, RATHER THAN BE USURP IN AS A KING OF THE JEWS AS HER RELIGION HAD TAUGHT. THEN AT THE CROSS-AS WERE THE REST, SHE WAS BROKEN AND NOTHING WAS LEFT FOR HER EXCEPT THAT JESUS ASKED JOHN, THE BELOVED, TO TAKE CARE OF HER IN HER OLD AGE. MAYBE THIS IS WHAT THE PRIEST MEANT WHEN HE TOLD HER AT JESUS' BIRTH WELL LETS LOOK AT IT SO YOU CAN PUT THIS ALL IN CONTEXT (LUKE 2:25-35)
NO DON'T TELL ME YOU WOULD LIKE TO HAVE BEEN MARY, AND DON'T TELL ME SHE WAS HAPPY ALL HER LIFE, AND DON'T TELL ME SHE WAS HOLY AND CAN FORGIVE SINS, OR SHOULD BE AN OBJECT TO PRAY THROUGH. WE ARE TO PRAY TO "THE FATHER", AS JESUS TAUGHT, AND WE ARE TO ASK FOR "HIS" FORGIVENESS OF WHICH ONLY HE CAN GIVE. NOT MARY, NOT SOME PRIEST, NOT EVEN THE HIGH PRIEST OF TODAY, THE POPE, CAN FORGIVE SINS EVEN THOUGH THEY ALL CLAIM TO.
"BLESSED IS THE FRUIT OF THY WOMB"; I KNOW THAT TEXT TOO; BUT LOOK IT'S NOT THE WOMB THAT BLESSED, OR MADE HOLY INTIMATING MARY, BUT IT'S "THE FRUIT" OF THAT WOMB ! HOLY IS GOD ONLY, AND JESUS WAS GOD, WHO, GAVE HIS LIFE FOR SIN. WE ALL ARE SINNERS INCLUDING MARY, THUS HE GAVE HIS LIFE FOR "US-SINNERS" THAT WE MIGHT LIVE, "AND OVERCOME" (A PREREQUISITE), AND THEN LIVE FOREVER.
HOW IS IT; THAT THE HIGHEST OFFICE IN RELIGION TODAY, CLAIMING INFALLIBILITY IN EVERYTHING HE SAYS AND DOES, CAN MAKE AN EDICT THAT WOULD PUT MARY ON THE SAME LEVEL AS JESUS IN FORGIVING SINS[12] ?
WHY-HOW ?
BECAUSE HE (BEING THE hOLY SEE, THE CLAIMED VICAR OF GOD, RULER IN RELIGIOUS MATTERS ON THIS EARTH, AND ALL THE hOLY INFALLIBLE FATHERS BEHIND HIM (EVEN THE ONES WHO PUT 80,000,000 PROTESTANTS TO DEATH BECAUSE THEY WOULD NOT BOW DOWN TO THE POPE OR KISS HIS RING) HAS PUT HIMSELF AND HIS PRIESTS ON THAT LEVEL OF FORGIVENESS ?
SO NOW WE'VE COME DOWN TO WHERE MARY, WITH A LITTLE BIT OF SCRIPTURAL MANIPULATION, HAS BEEN PUT IN HIGH ESTEEM TOO, AND THERE IS A BIG EVANGELICAL PUSH TO PROMOTE THIS AMONG CATHOLICS (WATCH THE CATHOLIC CHANNEL AND SEE WHAT I MEAN). WHAT MAKES THIS POSSIBLE WITHOUT QUESTION IS THAT THEY HAVE BEEN USING HER NAME FOR CENTURIES AS A MEDIATOR WHEN THEY RELIGIOUSLY READ THE ROSARY SO THIS IS JUST A NEXT LOGICAL STEP FOR THEM EVEN IF THERE IS NO SCRIPTURAL EVIDENCE[13].
FOR SAKE OF ARGUMENT THOUGH; HOW COME THE BIBLE USES THE TERM "HOLY" SPEAKING ABOUT THE "HOLY MEN OF OLD", THE "HOLY PROPHETS" AND SUCH; HOW CAN IT APPLY THESE TERMS TO MERE MEN IN LIGHT OF PAUL'S COUNSEL THAT ALL MANKIND ARE SINNERS ?
THE ANSWER IS SIMPLE: IT WASN'T THE MEN THAT WERE HOLY ! IT WAS THEIR MESSAGE ! GIVEN TO THEM BY "THE HOLY WORD OF GOD". IT WAS A HOLY MESSAGE FROM A HOLY GOD. MAN CANT MAKE SOMETHING HOLY, LIKE A SAINT, OR A POPE, AND ESPECIALLY A SABBATH DAY, NO MATTER WHAT HE CALLS IT ! AND LISTEN, IF I WERE TO NAME A DAY AS A HOLY DAY I CERTAINLY WOULDN'T USE THE WORD "SUN" IN IT. THE SUN HAS BEEN THE OBJECT OF HEATHEN WORSHIP FROM THE BEGINNING, AND THAT WAS WHY THE FIRST COMMANDMENT OF THE TEN HAD TO DO WITH WORSHIPPING OTHER GODS. NO I WOULD USE THE NAME OF GOD IN MY HOLY DAY, AND THAT IS WHAT THE SABBATH DOES, BUT IT'S JUST NOT ANY NAME FOR GOD THAT IS USED, IT IS THE MOST INTIMATE NAME GIVEN FOR GOD, TRANSCENDING EVEN YAHWEH; WITH IS THE MOST SACRED NAME ONE COULD USE, ACCORDING TO THE JEWS, AND IT ALWAYS RESPECTS REVERENCE AND AWE, FOR GOD IS THE GOD OF FIRE AND JUSTNESS; BUT IT WAS THE NAME OF ABBA THAT GOD PLACED IN THE NAME OF HIS DAY BECAUSE IT IS LIKE SAYING "PAPA"="ABBA" THIS NAME HAS A HEART CONNOTATION NOT AN ALL POWERFUL ONE LIKE YAHWEH.
NOTICE THESE TEXTS USING THE NAME ABBA AND HOW IT APPLIES TO A DADDY LIKE TERM:
Romans 8:1516
For ye have not received the spirit of bondage again to fear; but ye have received the Spirit of adoption, whereby we cry, Abba, Father.
The Spirit itself beareth witness with our spirit, that we are the children of God:
**
Galatians 4:6-7
And because ye are sons, God hath sent forth the Spirit of his Son into your hearts, crying, Abba, Father.
Wherefore thou art no more a servant, but a son; and if a son, then an heir of God through Christ.
ON THE NIGHT BEFORE JESUS WENT TO THE CROSS, IN HIS DARKEST HOUR, HE PRAYED WITH GREAT DROPS OF BLOOD DROPPING FROM HIS HEAD FOR HE KNEW TO WELL WHAT HE WAS FACING; HE CRYED "ABBA", FATHER-DADDY, PLEASE SAVE ME FROM THIS TORTURE, I GIVE MY LIFE, IT NEED NOT BE TAKEN FROM ME THIS WAY, NEVER THE LESS THY WILL BE DONE.
Mark 14:33-36
And he taketh with him Peter and James and John, and began to be sore amazed, and to be very heavy;
And saith unto them, My soul is exceeding sorrowful unto death: tarry ye here, and watch.
And he went forward a little, and fell on the ground, and prayed that, if it were possible, the hour might pass from him.
And he said, Abba, Father, all things are possible unto thee; take away this cup from me: nevertheless not what I will, but what thou wilt.
NO, IF I WERE TO NAME A HOLY DAY, IT WOULD HAVE THE NAME OF GOD IN IT NOT THE NAME OF THE GOD OF THE HEATHENS.
NOTICE THE NAME OF GODS HOLY DAY THE SEVENTH DAY OF HIS WEEK HE MADE: S-ABBA-TH.
AS WE THINK ABOUT HOLY THINGS, AND WE ARE DRIVEN BY THE STATE OF THE ART OF RELIGION, BEING INFLUENCED TO ACCEPT TRADITIONS AS TRUTH, AND UNHOLY THINGS AS HOLY, IT WOULD PAY US TO SEEK THE COUNSEL OF GOD ON THESE MATTERS. IF WE DO WE WILL FIND HE TOLD HIS PROPHET TO WRITE FOR US READERS; WHEN MAN SEEKS TO FIND THE ANSWERS TO HOLY THINGS LET HIM SEEK HIS GOD AND NOT THOSE MEN WHO DO NOT SPEAK ACCORDING TO THE LAW AND THE TESTIMONY FOR THERE IS NO LIGHT IN THEM (ISAIAH 8:19-20)[14].
GOD GAVE 9 POINTS IN HIS LAW[15] AS YAHWEH, ONE OF THE TEN HE GAVE AS ABBA. NOT WITH A "THOU SHALT NOT" AS YOU WOULD EXCEPT FROM A CHASTISING FATHER, BUT IN A LOVINGLY PLEA, WITH A "REMEMBER", AND ISN'T IT TRAGIC, SINCE THE LAW WILL BE WHAT WE ARE JUDGED BY FOR SALVATION, THAT THIS IS THE VERY ONE COMMANDMENT IN THE 10 THAT WE HAVE FORGOTTEN ? AND IN SO DOING friends, WE HAVE BROKEN THE OTHER TEN[16] , beginning WITH THE FIRST ON WORSHIP.
THE INNER RELATIONSHIP OF GOD ALWAYS REVEALS HIS LOVE, AND HIS LAW, BECAUSE THAT IS THE CHARACTER OF GOD, AND THIS IS WHY HE PLACED THESE LAWS IN HIS COVENANT WITH MANKIND. NOT IN THE HANDS OF PRIESTS, BUT IN THE HOLIEST PLACE OF ALL, IN THE HEART OF HIS TEMPLE, IN THE ARK OF HIS COVENANT, UNDER HIS MERCY SEAT DID HE PLACE HIS LOVE FOR MANKIND, AND FOLKS IN THE CENTER OF THAT LAW HE SPOKE AS OUR PAPA IN LOVE ASKING US TO REMEMBER.
BUT SATAN HAS BEEN ABLE, BY CREEPING COMPROMISES, TO TAKE THIS LOVE FROM US until SOME DAY, AS THE SCRIPTURES PREDICT, ALL THE WORLD WILL WONDER AFTER THE BEAST AND HIS IMAGE[17].
IS IT WE ? IS IT YOU ? IS IT OUR FAMILY, OUR LOVED ONES ? WHAT BETTER THING COULD WE DO THAN TO FIND THE TRUTH FOR THEM, AND OURSELVES, AND BE SET FREE FROM THIS WORLD OF SIN[18], AND MORE, TO HAVE THE RIGHT TO ENTER IN THROUGH THOSE GATES OF THE HEAVENLY CITY.
BLESSED, HAPPY, AND THEN "HOLY" WILL BE ALL THOSE (INCLUDING MARY AND US ?) WHO HAVE KEPT THE COMMANDMENTS OF GOD AND THE TESTIMONY OF JESUS CHRIST, FOR THEY WILL HAVE OVERCOME THE BEAST AND HIS IMAGE AND TO THEM IS ETERNAL LIFE (re REV. 14:12, 12:17, 19:10, 22:14) .
MARY MARY QUITE CONTRARY........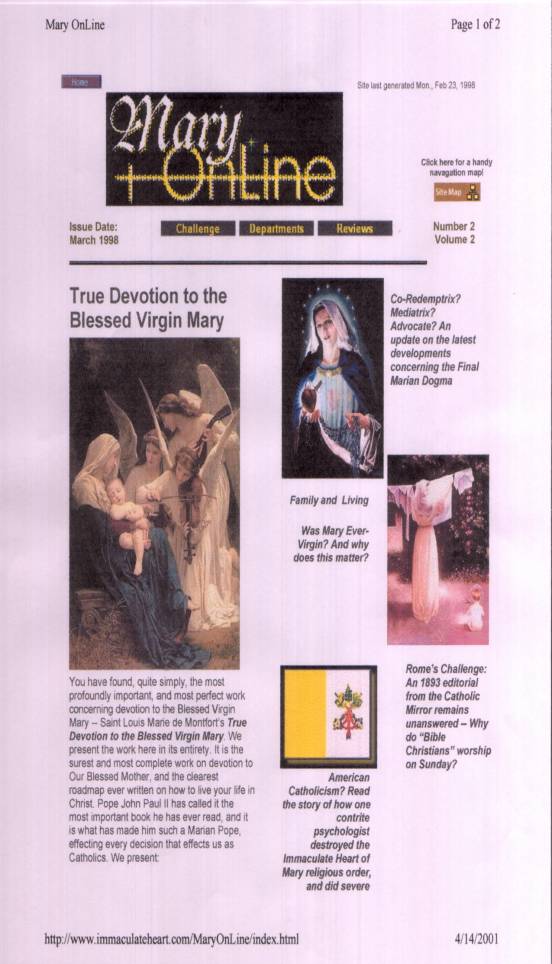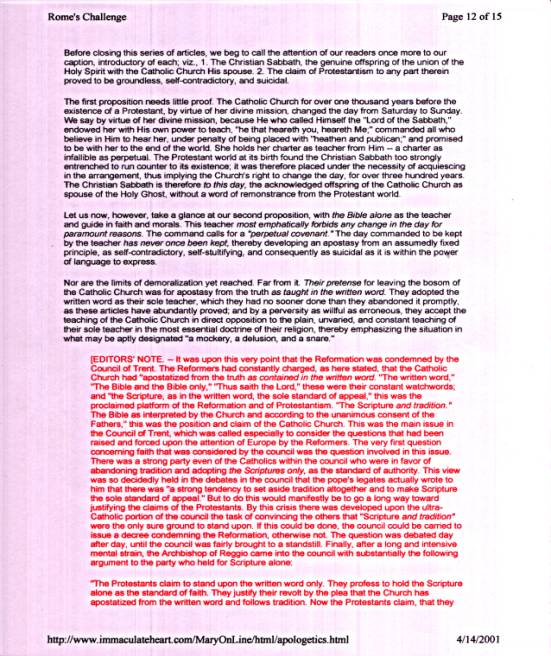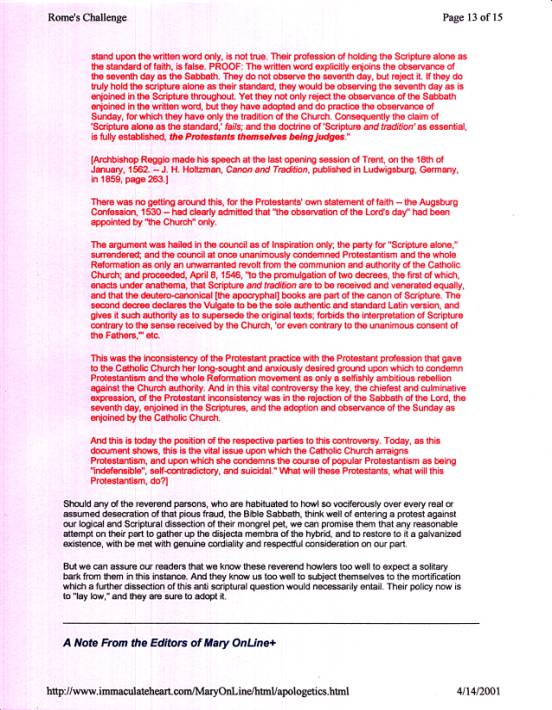 ---
Egyptology l Orion l Archeology l The Papasy l The Flood l Left Behind l Holy War l Watchman l Yahoo Debate l Whats New