The Dwelling Place of God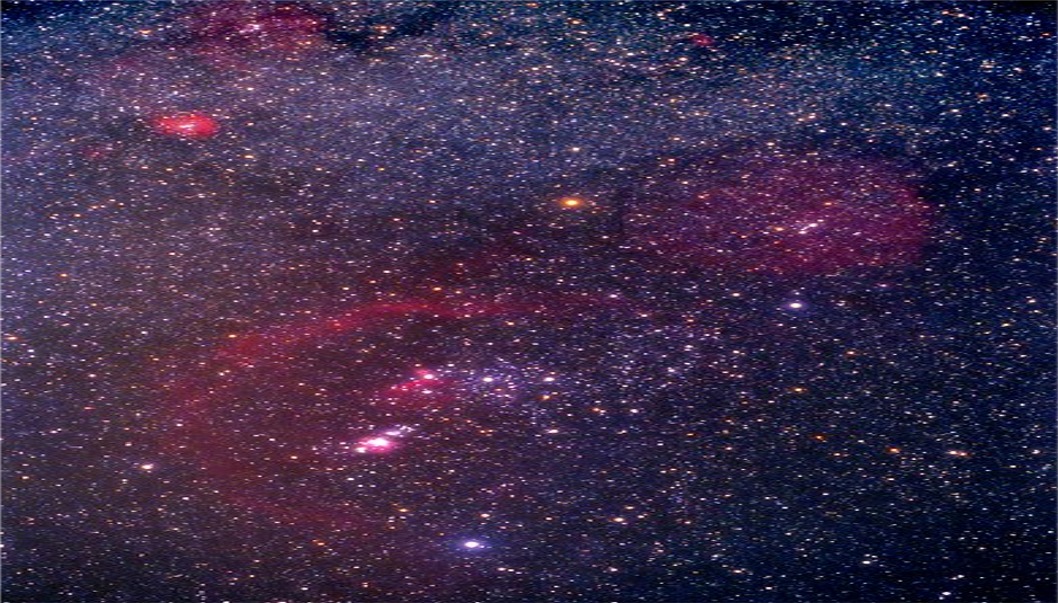 HAVE YOU EVER BEEN AWAY FROM THE CITY LIGHTS ON A TOP OF A MOUNTAIN, AND LAID DOWN ON YOUR SLEEPING BAG AND LOOKED UP INTO THE HEAVENS AND WONDERED ? IF YOU HAVENíT I BEG YOU TO DO SO BECAUSE IT PUTS A CERTAIN PERSPECTIVE ON YOUR WORLD THAT OTHER THINGS CAN NOT DO.
BY HIS SPIRIT HE HATH GARNISHED THE HEAVENS..JOB 26:13
WHEN WE STARE OUT INTO SPACE, ESPECIALLY FROM A TELESCOPE, AND WE SEE THE INTENSITY OF STARS, ITíS ALMOST MIND BOGGLING. LOOK AT THE PICTURE ABOVE; THIS IS JUST ONE SMALL SECTION, IN ONE DIRECTION, FROM ONE FOCAL POINT ON THE EARTH. SEE WHAT I MEAN ?
THIS TELESCOPIC SHOT WAS TAKEN BY A RELATIVELY SMALL SCOPE
AND ITS POINTING TOWARDS THE CONSTELLATION OF ORION OUR CLOSEST NEBULA. A NEBULA ACCORDING TO MY UNDERSTANDING IS ACTUALLY JUST AN OPENING IN THE HEAVENS THAT LEAD INTO OUTER REGIONS. OUTER REGIONS WHERE ? THIS IS WHAT I AM ALL ABOUT IN THIS SEGMENT.
I HAVE ALLUDED TO ORION AS THE PLACE OF GOD ESTABLISHED NOT ONLY FROM A PROPHETIC POINT OF VIEW BUT ALSO FROM A HISTORICAL VIEWPOINT AS WELL. IN THIS SETTING I WANT TO ADD ANOTHER DIMENSION I DISCOVERED THAT STATES THIS POSITION EVEN MORE DRAMATICALLY.
WITH THE HUBBLE GROUND MOUNTED TELESCOPE WE COULD TAKE PICTURES AS THE ONE ABOVE, BUT SINCE THE LAUNCHING OF THE SATELLITE MOUNTED HUBBLE, IN WHAT THE 1990'S ? OUR VISION HAS IMPROVED 1000 FOLD.
LETS LOOK AT THE SAME CONSTELLATION (ORION) BUT NOW WE ARE LOOKING BACK INTO THE NEBULA.
AND WHAT A SIGHT IT IS ! IT IS ALMOST UNBELIEVABLE. I WANT TO CHARGE COMPUTER FAKERY, BUT I GOT IT STRAIGHT FROM THE HUBBLE SITE ON THE INTERNET...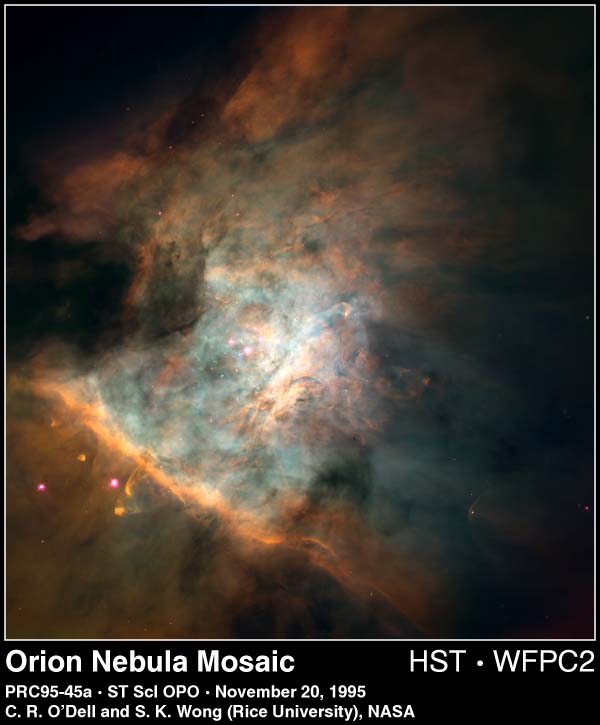 LETS LOOK EVEN CLOSER....
WHAT DO WE SEE ?
WELL, THE FIRST THING THAT CAUGHT MY EYE WAS THE EMERALD GREEN THAT BLENDS IN AND AROUND WHAT LOOK LIKE CLOUDS, AND THE INTENSE LIGHT THAT SEEMS TO BE PEAKING OUT AROUND THEM, LIKE IN BEHIND THEM.
NOW I CHOOSE MY WORDS INTENTIONALLY THE WAY I DID FOR A REASON AND I WANT YOU TO SEE WHY...
IN PSALMS 97:2 DAVID A KING OF ISRAEL WROTE, INCIDENTALLY JUST AT THE END OF THE LAST CENTURY (99) ARCHEOLOGISTS UNCOVERED INSCRIPTIONS WITH HIS NAME ON THEM BURIED BY TIME AS EVIDENCE TO ONCE AGAIN SUBSTANTIATE THE HOLY SCRIPTURES, ANYWAY LOOK AT THIS TEXT;
"CLOUDS AND DARKNESS ARE ROUND ABOUT HIM"
NOW IF HEAVEN IS THE PLACE OF SUCH EXTREME LIGHT, THAT THE RADIANCE FROM ONE ANGLE CAN DESTROY TEN THOUSAND SOLDIERS, OR THAT, WHEN JESUS COMES BACK THAT INTENSITY WILL DESTROY ALL WHO ARENíT READY, THEN HOW COULD THAT LIGHT BE HELD BACK, AS IT RADIATES FROM THE PORTAL OF HEAVEN, EXCEPT THAT GOD...WELL LETS LET JOB SAY IT...
JOB 26:9
"HE HOLDETH BACK THE FACE OF HIS THRONE, AND SPREADETH HIS CLOUD UPON IT"
THE APOSTLE PAUL WROTE OF HIS VISION OF HEAVEN;
"WHO ONLY HATH IMMORTALITY, DWELLING IN THE LIGHT WHICH NO MAN CAN APPROACH UNTO, WHOM NO MAN HATH SEEN, NOR CAN SEE"
IN THE BOOK EXPLORATION OF THE UNIVERSE, BY GEORGE ABELL, PG 515, HE OBSERVES; "CLOUDS OF DARK MATERIAL CAN BE SEEN SILHOUETTED ON THE ORION NEBULA, ACTUALLY HIDING A LARGE PART OF THE H II REGION FROM OUR VIEW". NOW THIS WAS WRITTEN LONG BEFORE SATELLITE HUBBEL AND NOW WE SEE ITS TRUE.
DO YOU SEE THAT INTENSE LIGHT PEEKING AROUND THE CLOUDS ?
THAT LIGHT ACCORDING TO ASTRONOMERS IS GETTING MORE AND MORE INTENSE.
DANIEL A BIBLICAL PROPHET DESCRIBES GODS THRONE THIS WAY:
"A FIERY STREAM ISSUED AND CAME FORTH FROM BEFORE HIM"
A LOCAL ASTRONOMER I WAS ACQUAINTED WITH IN THE EARLY 80'S, OF WHOM I AM CIPHERING THIS DATA FROM, SAID THIS;
"ASTRONOMERS SPEAK OF THE M 42 REGION AS THE GREAT ORION NEBULA, AND WE ARE TOLD THAT ITS LIGHT IS CAUSED BY ULTRA-VIOLET RADIATION EMITTING FROM THE NEARBY STARS, CAUSING THE HYDROGEN GAS TO BECOME IONIZED, THUS EMITTING LIGHT". HE GOES ON TO SURMISE..."IN THAT CASE IT WOULD BE ORDINARY STARLIGHT, AND THE SPECTRUM WOULD SHOW IT AS SUCH. BUT THE LIGHT FROM THIS OPEN SPACE IN ORION IS A DIFFERENT KIND OF LIGHT". SPEAKING FROM PERSONAL OBSERVATION;HE SAYS; "LOOKING AT THIS LIGHT THROUGH A TELESCOPE, IT LOOKS WHITE WITH A SLIGHT TINGE OF GREEN". IF ONLY HE COULD HAVE LIVED LONGER HE WOULD BE AMAZED JUST HOW GREEN THE TINGES REALLY ARE AS WE SEE IN THE VARIOUS CLOSE UP PHOTOGRAPHS OF THAT REGION. BUT HE GOES ON TO SAY; "WHEN PHOTOGRAPHED FROM A SMALLER TELESCOPE, THE REGION OF M 42 SHOWS UP AS A BEAUTIFUL purplish COLOR".
M 42 REGION
I WANT TO FOCUS HOWEVER ON THE GREEN COLOR WE SEE FROM THE HUBBEL IN SPACE WITH ITíS UNOBSTRUCTED VIEW.
HEREíS SOME OTHER SHOTS OF THAT REGION FROM THE HUBBLE: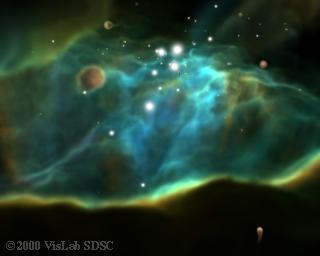 NOW TO BRING IT HOME...
REVELATION 4:1-3
"AFTER THIS I LOOKED, AND, BEHOLD, A DOOR WAS OPENED IN HEAVEN: AND THE FIRST VOICE WHICH I HEARD WAS AS IT WERE OF A TRUMPET TALKING WITH ME: WHICH SAID, COME UP HITHER, AND I WILL SHOW THEE THINGS WHICH MUST BE HEREAFTER. AND IMMEDIATELY I WAS IN THE SPIRIT: AND BEHOLD, A THRONE WAS SET IN HEAVEN, AND ONE SAT ON THE THRONE. AND HE THAT SAT WAS TO LOOK UPON LIKE A JASPER AND SARDINE STONE: AND THERE WAS A RAINBOW ROUND ABOUT THE THRONE, IN SIGHT LIKE UNTO AN EMERALD".....
FRIENDS,
COME WITH ME AS WE LOOK AT THE THINGS WHICH MUST BE HEREAFTER........
Egyptology l Orion l Archeology l The Papasy l The Flood l Left Behind l Holy War l Watchman l Yahoo Debate l Whats New